Underground Techno Music Inspired "Locked Groove" Paintings Will be on Display in Van Der Plas Gallery, New York, with a Purpose to Break Cultural Stereotypes
Hungarian contemporary artist Hevesi Daniel Marcel will feature two of his "Locked groove" paintings in a Adriaan Van Der Plas' Lower East Side Manhattan gallery from 17th to 23rd April, 2017. Through his artworks, Daniel wants to break cultural patterns and bring contemporary fine art and underground electronic music respecting people together.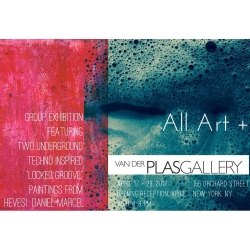 New York, NY, April 17, 2017 --(
PR.com
)-- According to the artist, arts can be one of the most effective medium to build bridges between fine arts and electronic music. "Underground techno music is most expressive genre among contemporary electronic music styles. Built on strong tribal roots, this genre has the ability to entertain the audience on many different levels, once understood. Close-minded, biased people tend to have negative associations with this form of music and art style, but once the details of its complexity and message is learned, previously formed stereotypes can be broken," Daniel says.
The name of the "Locked grooves" series is coming from vinyl records, which has few second-long endless loop pressed onto them. Daniel says, "These artworks capture the best parts of underground techno tracks and translates them to visual format."
Hevesi Dániel Marcel represents the new wave of underground techno culture to the contemporary fine art world. He is interested in the converge of underground techno music and abstract, minimal art.
Dániel is from Miskolc, Hungary and lives in Budapest. He has a background in communication engineering and technical acoustics.
His passion about underground electronic music started in 1996 and started painting in 2015.
About the Van Der Plas gallery
The Van Der Plas gallery has been a conduit for contemporary outsider artists for over 40 years. Whether it be street art or contemporary art, the gallery strives to showcase art rising from the innermost human creative spirit. Founder Adriaan Van Der Plas was once himself an outsider, having left his hometown of Vienna, Austria in 1973 to immigrate to New York City. Around this time, artist Konstantin Bokov was preparing to make the same transition. Inspired by the works of Van Gogh and unable to show his art in the political climate of the USSR, he decided to leave the Ukraine for New York city. The two became acquainted in 1993, when Bokov approached Adriaan at his former art pushcart concept in the South Street Seaport district, "Art a la carte." Adriaan became an avid collector of his work, recognizing the sincerity by which the work was able to portray New York's spirit and materiality. With the opening of the Van Der Plas gallery on 156 Orchard Street, Adriaan made it the galleries mission to bring contemporary outsiders like Bokov into the public eye. Since the 1970's, Bokov's works have been exhibited at galleries around the world, and will continue to be an important part of the Van Der Plas gallery.
Contact
Hevesi Daniel Marcel Fine Art
Hevesi Daniel Marcel
+36304452111
hevesidanielmarcel.com
http://hevesidanielmarcel.com/all-art-van-der-plas-gallery-manhattan/

Contact