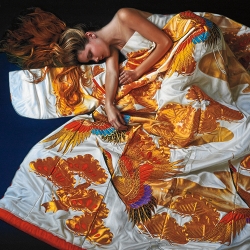 New York, NY, April 18, 2017 --(
PR.com
)-- Martin Lawrence Gallery SOHO, New York presents the critically acclaimed paintings of Douglas Hofmann. Clients will have the opportunity to view one-of-a-kind works and limited editions.
Hofmann's paintings are known for their glowing surfaces, detail and softly lighted forms expertly combined with Old Master techniques, creating a beautiful aura of light and atmosphere that is more often found in great Baroque paintings.
The art reception will be on Thursday, April 20, 2017, from 6:30PM — 9PM at 457 West Broadway, New York, NY 10012. The art is on exhibit until June 1, 2017.
"With my paintings I strive to get the feeling of air. There is a 'signature' to the work that reveals my hand, my feelings and my personality. I don't paint everyday scenes. I'm a dreamer. This appeals to me as a form of self-expression in today's world of structured reality," said Douglas Hofmann.
Since 1975, Martin Lawrence Galleries SOHO has assisted collectors in making their art acquisitions an exciting and rewarding experience. It specializes in original paintings, sculptures and limited editions by Warhol, Haring, Murakami, Chagall, Picasso and many others.
Follow Martin Lawrence Galleries on Twitter (@TweetMLG), Facebook (@martinlawrencegalleries) and Instagram (@martinlawrencegalleries). #DouglasHofmann
Contact Information:
Martin Lawrence Galleries SOHO
Katia Graytok
203-989-2073
http://SOHO@MartinLawrence.com
212-995-8865