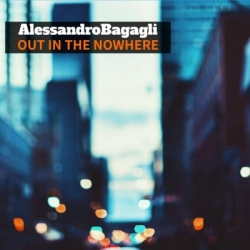 Rome, Italy, April 21, 2017 --(
PR.com
)-- Alessandro Bagagli is happy to announce the release of the 6th album of his discography, Out in the Nowhere, digitally available worldwide on June 2, 2017. First single and video, "Waitin' 4 2nite" is out now.
Album pre-order on iTunes and Amazon will start May 2, 2017 and it will entitle the customers to a free download of the first single.
With "Out in the Nowhere," a 15 tracks' album of pure rock recalling classic American rock moods, the Italian rock songwriter intends to homage the bands of the Seventies which influenced his musical growth.
For this reason Alessandro has worked to capture that specific sound, avoiding the modern mastering standards that make songs scream loud and compressed.
"Out in the Nowhere" owns instead uncompressed sounds and the whole album seems to look back to classic Seventies rock in a "new millennial sauce." The dynamics of the album are pure and clear, exalting each and every instrument played by the artist.
What to expect from this album? 15 modern rock songs with a taste of those classic American rock sounds and Brit-rock guitar riffs, stunning Telecaster rhythms and solos: quoting Alessandro, "I want 'Out in the Nowhere' to fill the nights and days of my listeners' next summer just in the same way it filled my nights when I was working on it."
"Out in the Nowhere" is the 6th album by the rock multi-instrumentalist, who has written and performed all songs and instruments and it's been released only one year since his last work "Live & Die."
The artist is prolific because his "tension to rock and communicate his hunger." The Italian songwriter wants the listeners to participate into this musical work and to understand the mood of this brand new record. For this reason the rock artist describes all the musical instruments he has used on these brand new 15 songs: a 52 Fender Telecaster, a 72 Fender Custom Telecaster, a Gibson SG, a 12 strings Rickenbacker 360 Fireglo, a Hammond B3 organ, a Yamaha piano, a Fender Jazz Bass.
This album seems to get into the heart of America, the sound lines go from rock to blues and country rock with a versatile vein that leads the listener all along the Route 66 to discover the very heart and soul of American musical tradition. But how can an Italian artist go deeply through the musical American roots with such an easy feeling? It's probably because Alessandro Bagagli has grown listening to this music all the time. He loves to remind that his parents introduced him to Bob Dylan and The Byrds "since when he was still in his mother's belly." So he drank milk and rock and roll since he was a little baby.
Now his music is adult and songs like the first single and video out now, "Waitin' 4 2nite," or "Signs on the Wall," "My Reward," "A worm in my Brain" and "Save Me," above all, are there to show this musical growth.