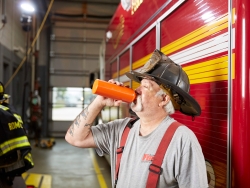 Chicago, IL, April 21, 2017 --(
PR.com
)-- W.S. Darley & Company is proud to announce the launch of its new, innovative product, Bag-in-Box Water, at the FDIC International Show, April 24 -29, 2017 in Indianapolis, Indiana. Darley Bag-in-Box Water is a single-use, ultra-clean and eco-friendly solution offering convenience and safety. Bag-in-Box Water comes in three sizes (10L, 15L and 20L) and can be consumed at room temperature or connected to a refrigerated dispenser system.
Darley Bag-in-Box water is suitable for everyday use in homes, offices, schools, fire departments and hospitals. Darley Bag-in-Box Water can be stored in preparation for an emergency and distributed in humanitarian relief efforts by first responders.
Darley Bag-in-Box Water maintains the quality of the water, ensures hygiene and food safety, is eco-friendly and cost effective. Bag-in-Box Water is durable and is protected from light / UV rays and air during storage, eliminating "green bottle" problems and ensuring health and safety for consumers.
For more information please visit Darley at the FDIC Show Booth# 3721, their website,
www.Edarley.com
or contact Kevin Sofen 630-735-3538 / kevinsofen@darley.com