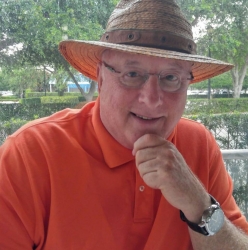 Rochester, NY, April 23, 2017 --(
PR.com
)-- SelectBooks, Inc. announces the paperback publication of "GTO: Race to Oblivion" (March 2017; $16.95; ISBN: 978-1-59079-397-8) by Roger Corea. When the SS Andrea Doria sank near Nantucket Island in 1956, the manifest revealed something that devastated the car world—the invaluable Ferrari 250 GTO Prototype was listed among the cargo.
The novel GTO begins its story fifty-two years later with a young financial advisor named Tommy Grimaldi. Tommy is leading a quiet, uneventful life in Fairchester, New York, when his best friend, Mike Bender inherits millions. Suddenly, Mike becomes a target of others' avaricious interests. Ensnared by a mysterious woman with unknown objectives linked to the GTO, Mike is about to be thrown into a perilous game—and Tommy along with him.
The dangers of the present are tied up with the deadly legacy of the GTO's past as the cryptic figure of Paul Charone, the leader of a French secret society, threatens to enact his vision of a new world order. If he succeeds, Monaco's royal family will be the first to fall.
GTO is a fun, fast-paced adventure and a special treat for the classic car enthusiast. This new offering follows up on Roger Corea's well-received novel, "The Duesenberg Caper," and it reaffirms his extraordinary skill at weaving in a vast technical knowledge of automobiles with an action-packed plot that will leave thriller fans and car buffs alike asking for more.
Bill Warner, chairman and founder of the classic car enthusiast mecca, the Amelia Island Concours d'Elegance, provided the foreword for Mr. Corea's new book. He states:
Whenever a group of car people get together and the subject of the "favorite car" comes up, very infrequently, if ever, do they all agree on one particular car. To some, the 1938 Alfa Romeo 8C 2900 is their favorite. To others, it could be a Ferrari 250 GT SWB Berlinetta. But nearly all would have the Ferrari 250 GTO somewhere in their top two or three cars... Writing a fictional novel based on such an important and historic vehicle requires some latitude in times, places, and people. The author spins a tale of intrigue that encompasses the GTO, the Andrea Doria, and royalty (the Grimaldi family) that is both entertaining and full of suspense and surprises.
Roger Corea writes about things, people, and places he is passionate about. His first novel, "Scarback: There Is So Much More to Fishing Than Catching Fish," published in 2014, tells the story of a critical time in the life of a mentally challenged man from the Italian neighborhood of Roger's youth.
Writing is a natural outgrowth of Roger's formal education. He earned a bachelor's degree in English from St. Bonaventure University and com­pleted graduate work in English literature at the University of Rochester. Before entering the business world to work for a large financial services company, Roger taught English literature at Canandaigua Academy and Penfield High School, where he also served as assistant football coach.
Roger Corea lives in Rochester, NY, he has three children and three grandchildren.
Press contact:
SelectBooks of New York
(212) 206-1997
Kenichi@selectbooks.com