Gerardsmusic.com/Maile Lei Music Ministry Productions Announces the Debut of Gerard Powell's New CD
Gerardsmusic.com, "Spreading God's Word Through Music and Song... Island Style" Announces the Debut of Gerard Powell's New CD Release Entitled "Island Style Christian Music."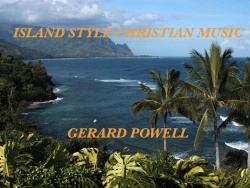 San Diego, CA, June 07, 2017 --(
PR.com
)-- Gerardsmusic.com is excited to provide Christian music lovers a new refreshing sound of easy listening music mixed with a hint of Hawaiian and Caribbean rhythms and sounds of praise and worship. It contains two (2) discs. Each disc consists of original songs and traditional hymns. Gerard played, sang, recorded, mixed, and mastered all the instruments you hear on each song and features his baritone ukulele.
Gerard Powell is the founder and president of Gerardsmusic.com / Maile Lei Music Ministry Productions. His main goal is to "Spread God's Word Through Music And Song Island Style" by creating and distributing music worldwide as an independent Christian artist songwriter and musician. The Island Style Christian Music CD is his third Album tastefully done with respect and reverence to our Lord and Savior Jesus Christ.
He is a member of the American Society of Composers, Authors & Publishers (ASCAP). His music is registered with Christian Copyright Licensing International (CCLI) and is available for download purchase at gerardsmusic.com and other familiar music sites. For more information, please contact Gerard Powell at gerardsmusic.com.
Contact
Maile Lei Music Ministry Productions
Gerard Powell
(619) 876-9000
https://www.gerardsmusic.com

Contact