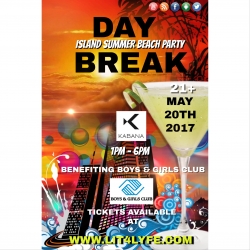 Richmond, VA, May 07, 2017 --(
PR.com
)-- Lit4lyfe.com, a Mr. Networker Consulting LLC Company will bring Day Break 2017 to life Saturday, May 20th, 2017 from 1pm to 6pm.
Day Break 2017 will be an island summer beach party themed event.
This event experience for its attendees will take place atop the Richmond city skyline at the Kabana Rooftop Restaurant. Lit4lyfe.com produced the event to be the best release from a hectic work life, in addition to it being a fundraiser benefit for the local Boys & Girls Club of Metro Richmond.
Lit4lyfe is an organization representing (Luxury - Innovation - Technology - Loving - Yourself - for - Eternity); the group is excited to partner with both area businesses and entertainers joining together in support of producing a fantastic experience for its guest, with proceeds to benefit such a worthy cause.
"All will soon agree, that there is no better to place to experience an island than above the city at Kabana Rooftop..." - Lit4lyfe.com
Day Break 2017 will be a couples or singles friendly experience.
Island beach attire is warranted for a day of fun and excitement.
Attendees will enjoy:
1. Cash Bar - with exclusive exotic cocktails
2. Photo Booth
3. Onsite Demonstrations
4. Party Favors
5. Door Prize
6. High Energy laser Light & Sound Show
7. Access to the Kabana pool (for select VIP Attendees)
8. Party Games & Live Entertainment
9. Jenga Contest (up to $750 cash prize)
10. Hard Body Contest
11. Bikini Contest
12. Ice Luge
13. Best Summer Beach Wear Contest (Men and Womens)
14. An assembly of both Nationally Recognized and Local Talent
When:
Occurring Saturday, May 20th
Time:
1pm to 6pm
Where:
Kabana Rooftop
For more details or tickets visit:
www.lit4lyfe.com