First Hyatt Place Hotel in Round Rock, TX Announces General Manager and Director of Sales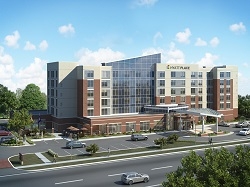 Cincinnati, OH, May 09, 2017 --(
PR.com
)-- Hyatt Place Austin/Round Rock is set to open June, 2017. The new 138 room hotel will offer business and leisure travelers an open, intuitive design, casual atmosphere, and practical amenities, such as free Wi-Fi, 24-hour food offerings and the 24-hour fitness center.
The Hyatt Place Austin/Round Rock is located at 420 Sundance Pkwy, 15 miles north of Austin in the LaFrontera eCommerce Park; adjacent to Emerson Process Management and near Dell Technology Headquarters. Round Rock is touted as the Sports Capital of Texas with many amateur sports facilities including the Round Rock Sports Center and Dell Diamond Park, home of the Round Rock Express, a Triple A affiliate of the Texas Rangers.
Hyatt Place Austin/Round Rock will offer:
· 138 roomy rooms, all of which feature a swiveling 42-inch HDTV, the plush Hyatt Grand Bed® and Cozy Corner sectional sofa
· Free Wi-Fi everywhere
· Complimentary a.m. Kitchen Skillet TM breakfast for guests, featuring freshly prepared breakfast sandwiches, a variety of fresh fruits, hot and cold cereal, yogurt, breads, premium coffee and an assortment of juices
· 1,500 square feet of flexible, high-tech meeting/function space
· 24/7 Gallery Menu serving made-to-order entrees and appetizers around the clock
· A Coffee to Cocktails Bar featuring specialty coffees and premium beers, as well as wines and cocktails
For more information on the Hyatt Place Austin/Round Rock visit
https://austinroundrock.place.hyatt.com
or call 512-244-4300
Hyatt Place Austin/Round Rock Leadership
Hyatt Place Austin/Round Rock will be under the leadership of General Manager Mindi Marshall and Director of Sales Sarah Macke. In her role, Marshall will be directly responsible for managing the day-to-day operations of the hotel, including overseeing the hotel's associates and ensuring guests encounter the purposeful service for which Hyatt Place is known.
Most recently Marshall served as an assistant general manager at the Austin Marriott North in Round Rock, TX. and has served in many operational roles in her 11 years with Winegardner & Hammons Hotel Group. She holds degrees from both the Scottsdale Culinary Institute and Louisiana Tech University.
Macke will be responsible for providing sales service and support to travelers and meeting planners frequenting the Round Rock area. Macke returns to Austin after several years in the hospitality industry in Columbia, SC and Houston, TX. She graduated Summa Cum Laude with a Hospitality Degree from University of South Carolina.
"Austin is a world-class city and key business and leisure destination, and Hyatt Place Austin/Round Rock will add a wonderful new option for business and leisure travelers visiting the area said general manager Mindi Marshall. I am very excited for the opportunity to open the first Hyatt Place in Round Rock, TX."
About Hyatt Place
Launched in 2006, the Hyatt Place brand brings to the upscale service hotel category the authentic hospitality for which Hyatt is known. Inspired by multitasking travelers' 24/7 lifestyle, Hyatt Place combines style with casual hospitality. Featuring spacious guestrooms with the Cozy Corner, Free Wi-Fi everywhere, the 24/7 Gallery Menu, Coffee to Cocktails Bar, and Free Hot Breakfast for guests. The Odds & Ends program also has guests covered with items they may have forgotten and can buy, borrow or enjoy for free. Specially trained Gallery Hosts are on hand to offer assistance with everything from directions to check-in to a freshly made meal.
Hyatt Place, a brand of Hyatt Hotels Corporation, offers more than 215 locations in the United States, Armenia, China, Costa Rica, India, Mexico, Puerto Rico, Netherlands, and United Arab Emirates. For Hyatt Place information or to make a reservation, call 1-888-HYATT-HP (888-492-8847) or visit
www.HyattPlace.com
.
About Winegardner & Hammons Hotel Group, LLC
Winegardner & Hammons Hotel Group, LLC (
www.whhotelgroup.com
) established in 1958, is a privately-owned full-service hotel company based in Cincinnati, Ohio. The company delivers superior results to owners by providing outstanding property management, asset management, project management, acquisition services and lender/receiver services. Winegardner & Hammons manages hotels throughout the United States, delivering outstanding experiences to guests and strong returns to owners at properties ranging from independent to major brand hotels. WHG is the only hospitality company as an 11 year consecutive recipient of the Gallup Great Workplace Award. Winegardner & Hammons Hotel Group, LLC is an affiliate of Pyramid Hotel Group.
Contact
Winegardner & Hammons Hotel Group, LLC
Cindy Swift
513-794-2419
whhotelgroup.com
Mindi Marshall
General Manager
mindi.marshall@hyatt.com
512-244-4300

Contact