Martin Lawrence Galleries Exhibition of Takashi Murakami
Join Martin Lawrence Galleries and explore a world-class exhibition of one of the world's most fascinating artists. Featuring over 50 works of art by Takashi Murakami. The exhibition will be on view from June 1st, 2017-June 30th, 2017, 366 Geary Street, San Francisco, CA, 94108 (in Union Square).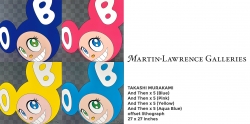 San Francisco, CA, May 31, 2017 --(
PR.com
)-- Takashi Murakami is a Japanese contemporary artist. He works in fine arts media (such as painting and sculpture) as well as commercial media (such as fashion, merchandise, and animation) and is known for blurring the line between high and low arts. He coined the term super flat, which describes both the aesthetic characteristics of Japanese artistic tradition and the nature of post-war Japanese culture and society, and is also used for Murakami's own artistic style and that of other Japanese artists he has influenced.
Murakami's art has been noted for its use of color, incorporation of motifs from Japanese traditional and popular culture, flat/glossy surfaces, and content that could be described at once as "cute," "psychedelic," or satirical." Among his best known recurring motifs are smiling flowers, iconic characters, mushrooms, skulls, Buddhist iconography, and the sexual complexes of otaku culture.
The exhibition will will be on exhibit from June 1st, 2017 - June 30th, 2017 at 366 Geary Street, San Francisco, CA, 94108 (in Union Square).
Since 1975 Martin Lawrence Galleries San Francisco and their 8 other locations in North America have assisted collectors in making art acquisitions an exciting and rewarding experience. They specialize in original oil paintings, sculptures and limited editions by Warhol, Haring, Murakami, Chagall, Picasso and many others.
Follow Martin Lawrence Galleries on Twitter (@TweetMLG), Facebook (@martinlawrencegallleries) and Instagram (@martinlawrencegalleries) #TakashiMurakami
Contact Information:
Martin Lawrence Galleries San Francisco
Katia Graytok
203-989-2073
http://gearydirector@martinlawrence.com
415-956-0345
Contact
Martin Lawrence Galleries
Katia Graytok
203 989 2073
wwww.martinlawrence.com

Contact