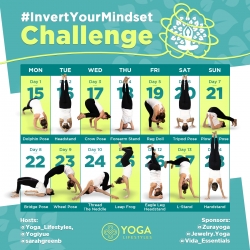 Orlando, FL, May 16, 2017 --(
PR.com
)-- Yoga Lifestyles, an online health and wellness community, is hosting a challenge on Instagram to raise awareness for mental health and promote body positivity in light of Mental Health Awareness Month which lasts all through May. The challenge, called #InvertYourMindset calls on individuals to participate by taking a photo or video of a specific inversion - a yoga pose that places your hips above your heart, such as a headstand or handstand - and posting it on their Instagram page using the hashtag #InvertYourMindset in their caption. The challenge runs from May 15-June 12, and participants can join at any time until May 29 to qualify for the prizes which include yoga gear, organic essential oils and handcrafted yoga jewelry.
"One in every five individuals is clinically diagnosed with depression, anxiety or an eating disorder in their lifetime, and it's largely due to the media's unrealistic expectations of what beauty should look like," said Melody Beuzelin, Yoga Lifestyles editor and creator of the challenge. "The idea of this challenge is to 'turn this statistic upside down' by physically getting on our heads to get a new perspective of ourselves, and tell the world 'I'm enough.' It's a great way to get the global community involved through social media and use its powers for good to raise awareness about an issue that affects either us or someone close to us, much like the ALS Ice Bucket Challenge."
Yoga Lifestyles will post daily graphics and instructional videos throughout the challenge to both motivate participants and give them a platform where they can connect with one another. To find out more details about the challenge, visit
http://yogalifestyles.com/join-invertyourmindset-challenge-instagram/
.
About Yoga Lifestyles
Yoga Lifestyles is an empowering online community that celebrates individuality through yoga as a means of expression, vitality and an instrument for positive transformation. It serves as your fresh, unbiased resource for layers of a healthy lifestyle beyond the boundaries of the yoga mat through articles, video, social conversation and other content. To learn more about Yoga Lifestyles, visit www.yogalifestyles.com or follow Yoga Lifestyles on Facebook and Instagram.