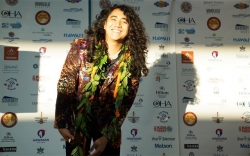 Honolulu, HI, May 24, 2017 --(
PR.com
)-- Big Island musician Kūkahi was the youngest singer/songwriter to take home 2017's prestigious Na Hoku Hanohano Award.
During the 40th annual awards ceremony that was held at the Hawaii Convention Center, 17-year-old alternative rock musician Kukahi won his first Na Hoku Hanohano Award for his self-titled debut album, "Kukahi." The LP was written and released when the artist was just sixteen years old, and contains ten original tracks.
The teenaged multi-instrumentalist composed his first song at the age of seven, and released his second album, "Human" on May 5, 2017. His album release party was held in Hollywood, California earlier this month.
Kūkahi sings and plays the acoustic & electric guitar, bass guitar, drums, and keyboards on his albums. He has performed in front of audiences at venues in Waimea, Hilo, Orlando, Los Angeles, San Diego, Houston, Austin, and Vancouver Canada.
His digital albums "Kukahi" and "Human" can be found on various internet music stores. Physical copies of his music can be found at big box stores around the U.S. and Japan. Autographed CD's can be found on his website: www.brandspankingku.com
Kūkahi can also be found on YouTube, Twitter, and Instagram under: Brandspankingku. His facebook address is: https://www.facebook.com/officialkukahi/
For more information, contact Shane Lee at makaliiproductions@gmail.com
A video of his reaction to the win can be found here:
https://youtu.be/P_EjB5deMJM