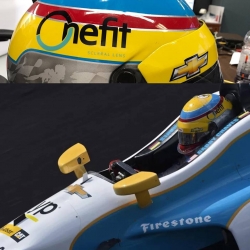 Manchester, NH, May 23, 2017 --(
PR.com
)--
Blanchard Contact Lenses
, a leading specialty contact lens designer and manufacturer in North America, announced their support of IndyCar driver
Gabby Chaves
, in the No. 88 Harding Racing car for the 101st running of the Indy 500. Chaves has been wearing Onefit™ Scleral Contact Lenses made by Blanchard Contact Lenses since February of 2017, and reached out to Blanchard to express his gratitude for what the contact lenses have done to help continue his racing career. From there, a partnership was formed and the
Onefit™ Scleral Lens
logo can be found on Chaves' helmet as he aims to make history on Sunday, May 28th at the 101st Indianapolis 500.
After being named Rookie of the Year in 2015, Chaves had problems with his vision deteriorating and was issued a restricted IndyCar license for the 2016 IndyCar season, where he tried to make do with heavy prescription glasses and soft contact lenses – both of which were very uncomfortable for him when driving. Even with the glasses and soft contacts, he was still very close to failing the yearly IndyCar eye exam for the 2017 season. When the IndyCar eye doctor expressed serious concerns about this, Chaves took matters into his own hands. In February 2017, he found an eye care practitioner who performed a Corneal Cross Linking procedure and prescribed him Onefit™ Scleral Lenses. Not only does Chaves now have better than 20/20 vision in both eyes and an unrestricted IndyCar license, he also told Blanchard recently, "Today was opening day for practice, and for once I didn't even have to think about my eye comfort or sight all day." On Monday, Chaves publicly announced this partnership and stated, "I am pleased to partner with Blanchard Contact Lenses and their Onefit Scleral Lenses to bring awareness and provide a better alternative in corrective eye wear for athletes, active individuals, and anyone looking to improve their vision quality."
Onefit™ Scleral Lenses were designed to provide crystal clear, and reliable vision performance with exceptional comfort. The lens, combined with the tear layer, act as a shield against the environmental hazards caused by many outdoor activities, such as wind, dust, and debris. They provide optimal oxygenation to the cornea for long-term corneal health, and can be suitable for a wide variety of patients with different eye care needs, including those with both normal or irregular corneas.
"We designed Onefit Scleral Lenses to have an array of benefits, many of which make them the ideal choice for athletes and active individuals such as Gabby Chaves" said Jean Blanchard, President of Blanchard Contact Lenses. "We are happy that Gabby shared his success story with us, and are excited to support him in the Indy 500 and look forward to a continued partnership" added Blanchard.
For more information on Onefit lenses or to find a practitioner near you, visit https://www.onefitlenses.com/