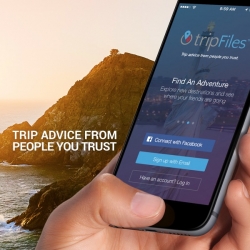 Coral Gables, FL, May 24, 2017 --(
PR.com
)-- Product Hunt has featured tripFiles to their user base for the second time. Product Hunt surfaces the best new products, every day. tripFiles, hot new travel app, is making a bang by offering free video and photo storage. You can find out more on
Product Hunt
or download
tripFiles
from the app store directly.
Product Hunt is a place for product-loving enthusiasts to share and geek out about the latest mobile apps, websites, hardware projects, and tech creations. It only seems fitting that tripFiles would be featured. tripFiles was founded on the idea that trip advice is better when it comes from people you trust. tripFiles gives users a way to share reviews privately with the folks they care the most about so when you are planning your next great adventure, you can see what your friends would recommend.
When traveling with friends or family tripFiles allows groups to share photo and video assets without having to text and email back and forth. With tripFiles, no more asking "Can you send me that photo" or "Can I give you my number so that you can text me that video." Group travel has never been easier.
But, let's not forget about the folks back home. tripFiles also allows you to keep your friends and family who are not on your trip engaged in your adventures. There are a few ways to share. You can share your trip through the app or if you have friends and family that are not big app users, you can send them a link to a website that is created automatically for you. Then every time you upload a new photo, the website will automatically be updated to those you have shared your website link with.
When you are home back safe and sound, you can post more broadly to your friends on Facebook. tripFiles is already integrated into both Facebook and Instagram. Travel is social, tripFiles allows you to keep your trips at your fingertips to share and remember with those you care the most about. Check out at
tripFiles
or in the
app store
.