Save Water Co, a Texas-Based Company, Wins Cartier Women's Initiative Award for North America
Save Water Co, led by 32-year-old Katie Anderson, recently took home an award for the social impact of its water conservation business model. The company has helped save over 650 million gallons of water while diverting over 300 tons of waste from landfills.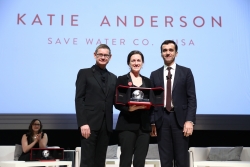 Dallas, TX, May 26, 2017 --(
PR.com
)-- Cartier Women's Initiative Award celebrated their 10th anniversary of honoring women-ran for-profit organizations that exhibit extraordinary dedication to the creation and development of their start-ups, which also have observable social impacts on the communities in which they operate. By recognizing and supporting creative women who make real social contributions, the award aims to encourage and incentivize female entrepreneurs worldwide to identify and solve the global challenges facing us today. Ultimately, the award aims to present their business solutions as an example to the largest audience possible.
Save Water Co, a leading water conservation business, has saved apartment owners over 650 million gallons of water since its start in 2014, increasing the property's value while also reducing its expenses and environmental footprint. Already snagging recognition in 2015 as a Forbes 30 Under 30 recipient, the company now claims Laureate of the North America Division for the 2017's Cartier Women's Initiative Award.
Anderson was one of the six regional winners from around the world, hand selected by an independent jury from more than 1,900 applicants. CEO of Cartier, Cyrille Vigneron and Dean of INSEAD Business School, Ilian Mihov, presented the award to Save Water Co Founder Katie Anderson on April 12th in Singapore.
About Save Water Co
Katie Anderson, a graduate of Texas A&M, founded Save Water Co in 2014. The company's focus is in implementing water saving measures in high-density real estate, which has resulted in reducing the water consumption rate of over 16,000 residential apartment units since the company's inception. Their conservation programs have shown to decrease an apartment owner's water and sewer costs by as much as 65% in some cases, which Anderson attributes to addressing fixture inefficiencies, while also fixing drips and leaks.
"Right now, as I see it, the world is operating like a colander. We're pouring water into the colander and half of it is just going straight back into the ground. We, at Save Water Co, identify these holes and plug them by fixing inefficiencies, drips, and leaks in apartment buildings."
In keeping with their conservation business model, Save Water Co strives to employ zero waste operation practices, currently recycling all of the porcelain, metal, and cardboard waste resulting from their projects. To date, over 300 tons have been diverted from the landfills, serving to amplify their conservation efforts.
About Cartier Women's Initiative Awards
The Cartier Women's Initiative Award is a creation of Cartier Luxury House. Founded in 1847, the fashion venture designs and manufactures unique assortments of prestige accessories, such as jewelry and wristwatches, which it then sells through its nearly 300 boutiques located around the world. The Cartier Women's Initiative Award is an annual international business plan competition created in 2006 to identify, support, and encourage projects by women entrepreneurs.
Contact
Save Water Co
Marlee Peters
832-786-1448
savewaterco.com

Contact