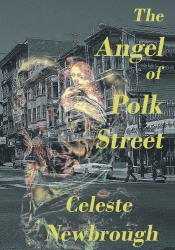 Berkeley, CA, May 30, 2017 --(
PR.com
)-- "A beautiful and hopeful book...[the] fast-paced narrative pulls one inward to self, to considering good and evil and the formation of identify. Highly recommended."
- Rosalie Reigle, Bad Reviews
"Newbrough is clearly a stunning writer speaking emotionally to universal themes."
- Batya Weinbaum, Author of Feminist Voices
"Powerful and insightful...delivers an unflinching examination of the best and worst aspects of the human condition."
- Nathan Beauchamp, Co-author, Universe Extended Award winning science fiction series
"An enjoyable and compelling read. It asks many questions and sometimes answers questions with more questions. Read it, and then look around you. How many angels do you see?"
- Stephanie Ann Blythe, transgender activist
"Readers of this heartrending and gripping affirmation of transgender identity will [respond with] a resounding 'YES, BRAVA!'"
- Marjorie Larney, Author, LGBT Youth Human Rights
"The prose is intense and dramatic, leading the reader into complete submersion in this dark yet inspiring tale."
- Nightwood Journal
Passages from The Angel of Polk Street:
Veronica received a call from Saul Bishop. "We found Lee."
"What?"
"Oh my god! Thank God. Where is he?"
"He's in state custody. I'm sure he'll be returned to you as soon as possible. There's something you need to know. Lee calls himself "Leslie Lake" and he identifies as female. The psychologist says your boy is a transgender."
...
When they entered the living room and saw their son, both froze. "I am prepared, I am prepared," Veronica stuttered to herself. But she was shocked beyond belief andparalyzed. Leslie Lake extricated herself from her seat next to Ollie Bennett, stood and walked unsteadily a few feet forward. Nate stepped backward. Veronica stared, immobile. Leslie raised up her arms like a bird arduously preparing for flight then folded them tightly around her body. Crouching, she yelled "Mom!" Standing in the middle of the room, she sobbed, wretched and alone.