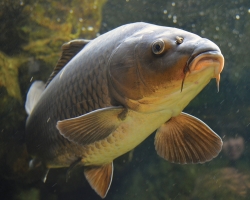 Ronda, NC, May 31, 2017 --(
PR.com
)-- Carpbusters Inc., a state of North Carolina non-profit is proud to announce that its EcoCarp® project is heading to final phase 3 trials.
"After almost a decade of research Carpbusters inc. is confident we have solved the thiaminase issue in carp that limited its use in pet foods," says Ellen Dierenfeld, PhD and lead nutritionist on the project. If Carpbusters final trials are successful they will be partnering with pet food manufacturers across the globe to find a good use for this bad fish. Imagine a time when large events hosted by Carpbusters entice hundreds of teams of sportsmen to small towns along the Mississippi River to harvest carp. Carpbusters then take those carp and make nutritious, tasty and affordable food for zoos, sanctuaries, and your fur babies, as well as many other applications. That day is one step closer to reality. It is a win-win for both the environment and our critters.
As they enter this final trial they do not need nor are able to accept carp donations.
For more information contact Ellen directly at
Edierenfeld@aol.com
or her phone number
314 717-3885
.