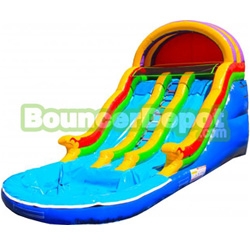 Los Angeles, CA, June 06, 2017 --(
PR.com
)-- Bouncer Depot, America's largest manufacturer of
commercial bounce houses
, water slides, obstacle courses and custom-built inflatable products, offers a list of seven considerations consumers should take into account when planning a purchase.
"We've been making quality products in Los Angeles for more than a decade, and many customers have reported that they purchased a sub-standard bounce house or other large inflatable from China before they discovered our American-made commercial inflatables," reports Bouncer Depot's Steve Johnson. "We decided it would be helpful to offer a checklist to help save customers time and money when considering the purchase of a
commercial water slide
, obstacle course,
water bounce house
, portable theater, or custom-made inflatable."
The Wharton School at the University of Pennsylvania reports that, while some Chinese manufacturers are working to improve the quality of their products, many more are just trying to make a quick buck, often through unscrupulous business practices (http://knowledge.wharton.upenn.edu/article/chinas-manufacturers-and-the-quality-control-conundrum/).
"For every one Chinese company that is improving product quality, there are probably 10 out there that are still cutting corners, and two other new companies are coming into the market by cutting more corners," according to a Wharton School report.
The United States Department of Commerce warns American consumers, and companies choosing to outsource production to Chinese factories, that "inputs from a foreign supply chain may lead to lower product quality, potentially costly product returns, and legal liability." (http://acetool.commerce.gov/print/product-quality)
Bouncer Depot, which manufacturers high-quality commercial inflatables with a 30-day money-back guarantee and a full 3-year warranty (including two-way shipping for the first 6 months and one-way shipping for a full year), suggests consumers consider the following seven points when determining whether to purchase an inflatable product from China.
1. Fake product images, quality and inspection
Numerous manufacturers simply copy images of products that they do not make and post them on their websites. Customers often are disappointed once they receive the product, because they get a cheap knock-off of the product shown in the image.
2. Returns and exchanges
Products can get damaged during shipping, or it can be different from what the buyer thought was being shipped. Typically, returns are not feasible because the shipping cost will be more than the purchase price.
3. Liability – the importer may be liable for the product
Products like bounce houses and water slides are primarily used by children, so safety is our paramount importance. A manufacturer who makes its products in the U.S.A is responsible for all defects. However, the rental business owner may become responsible for an imported product and design defects.
4. Insurance, USA regulations compliance
Local rules and regulations relating to the bounce house rental business may vary from state to state. While Bouncer Depot strives to comply with every state, most Chinese manufacturers are not even aware of the existence of these regulations. Customer find out about this when they try to buy insurance for their inflatable and get denied.
5. Warranty
Chinese manufacturers typically do not provide any warranty for their products, and if one is available, the shipping cost to return the product outweighs the benefit of receiving a replacement product.
6. Commercial-grade production
The term "commercial grade" is widely used in the industry and most manufacturers misrepresent it by saying that they use 18-ounce vinyl. While it is very important to use heavy duty vinyl, that is not the only thing one should consider when purchasing an inflatable product. Many cheap products that are intended for use for a maximum of one year may be made of 18-ounce vinyl. The average lifespan of USA-made Bouncer Depot inflatables is 8 years.
7. Customer service
Instructions for set-up and use of products like inflatable water slides and bounce houses purchased from Chinese manufacturers are often missing or lacking steps. American manufacturers place much more importance on customer service, and typically offer detailed, step-by-step instructions and customer help lines to assist in set up.
"Customer satisfaction is extremely important at Bouncer Depot," Johnson explained. "We do our best to assist our customers, not only during their purchase, but also after it. They usually have lots of questions once they receive their product, and we assist them with every step, including help with finding the best insurance company, how to properly set up their product, and we even advertise their business in our local rental directory."
About Bouncer Depot
Based in Los Angeles, California,
Bouncer Depot
(https://www.BouncerDepot.com) is an American manufacturer of commercial bounce houses, commercial inflatable water slides and obstacles. All products are commercial-grade quality aimed at customers in the rental business. Bouncer Depot manufactures high quality, safe and reliable products and offers step-by-step customer support. For information, visit www.BouncerDepot.com or call (877) 577-7119.