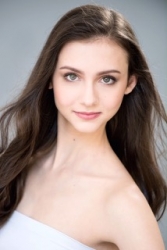 Boca Raton, FL, June 07, 2017 --(
PR.com
)-- A Texas native, who ventured to New York City at age 17 to pursue her dream of becoming a professional ballet dancer, won first place and $12,000 in the National Society of Arts and Letters (NSAL) ENPOINTE: Classical Ballet Competition in Boca Raton.
Winners of the national competition were announced at the conclusion of a week-long NSAL Annual Meeting during the Red Rose National Awards Gala, hosted by the Florida East Coast Chapter on Saturday, June 3 at Royal Palm Yacht & Country Club in Boca Raton. The organization awarded $31,000 to five top dancers selected by a panel of highly esteemed judges from the world of classical dance.
Nineteen year-old Gillian Fitz stood out in a field of 16 dancers (ages 16-21) representing NSAL chapters across the country during the competition at Florida Atlantic University Friday, June 2. Fitz, who represented NSAL's Greater New York Area Chapter, performed a Variation from Paquita. She currently trains at Ellison Ballet Professional Training Program in New York City and has attended a variety of ballet programs, including Pittsburgh Ballet Theater and The School of American Ballet.
The second place George Balanchine Award and $8,000 went to Juliet Doherty of the Greater Arizona Chapter. Doherty's early training in New Mexico led to a full scholarship at the San Francisco Ballet School. She has performed at Lincoln Center in New York City and toured with the world famous Radio City Rockettes.
Local competitor, Sophie Miklosovic, of Pompano Beach and a ballet student at The Art of Classical Ballet in Pompano Beach, took home the Third Place Marina Svetlova Award and $6,000. Miklosovic, who represented NSAL's Florida East Coast Chapter, has toured nationally with New York City Dance Alliance, and trained in summer programs at Joffrey Ballet School in New York City and Next Generation Ballet Program in Tampa.
The Fourth Place Mary Peery Fife Award and $4,000 went to Roland Jones, from the Washington, D.C Chapter. Jones currently studies at the Maryland Youth Ballet and will attend Boston Ballet's intensive program on a full scholarship this summer. Honorable mention and $1,000 went to Masanori Takiguchi with the Pittsburgh Chapter. He began training at age six and has attended ballet programs in China, Germany, Austria and currently Pittsburgh.
One of the most celebrated choreographers in the world, Christopher Wheeldon, was among the judges who selected the ballet competition winners. He was joined by Artistic Director of American Ballet Theatre's Jacqueline Kennedy Onassis School, Cynthia Harvey, Executive Artistic Director of New York's Eglevsky Ballet Company, Maurice Brandon Curry, and internationally-acclaimed Dance Photographer Steven Caras.
Saturday night's Red Rose National Awards Gala capped off a week of cultural events for the 73rd Annual Meeting of the National Society of Arts and Letters which drew hundreds of NSAL members from around the country to Palm Beach County. The EN POINTE: Classical Ballet Competition served as a highlight of the week.
Recognizing and developing the artist within has been at the core of the nonprofit National Society of Arts and Letters (NSAL) since its founding in Washington, D.C. in 1944. Today, volunteer chapters all over the country are committed to discovering, mentoring and providing annual scholarships and competitions for talented young artists to pursue their creative dreams in the areas of Art, Dance, Drama, Literature, Music and Musical Theatre. This year, the Florida East Coast Chapter of NSAL was afforded the opportunity to shine a spotlight on what NSAL does and how the chapter, which spans from Jacksonville to the Keys, promotes interest in the creative arts by working with talented young people at the beginning of their careers and helping them to advance their creative opportunities. For more information about the Florida East Coast Chapter, visit
www.nsalfloridaeast.org
.