dotCOMM Awards Announces AIM Consulting as Gold Winner for 2017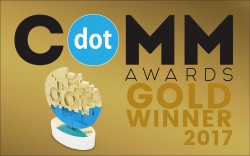 Seattle, WA, August 02, 2017 --(
PR.com
)-- Today, dotCOMM Awards announced
AIM Consulting as a Gold Winner
for the 2017 international awards competition honoring excellence in web creativity and digital communication. AIM Consulting was honored for the company website
aimconsulting.com
in the category of Professional Service.
dotCOMM Awards' categories are the elements of the web's evolving tools. Interactivity, content, design, social media, video, apps, blogs and influencers are all important components of digital public relations, marketing and advertising campaigns.
There were over 2,200 entries from throughout the United States, Canada and 13 other countries in the dotCOMM Awards 2017 competition. About 30% of entries received honors; only about 13% of entries became Gold Winners. Entries came from corporate marketing and communication departments, digital shops, advertising agencies, PR firms, production companies and freelancers. Entrants included designers, developers, content producers, digital artists, video professionals, account supervisors, creative directors and corporate executives.
dotCOMM Awards is administered and judged by the Association of Marketing and Communication Professionals (www.amcpros.com). The international organization consists of several thousand marketing, communication, advertising, public relations, media production and free-lance professionals. AMCP oversees awards and recognition programs, provides judges and rewards outstanding achievement and service to the profession.
AMCP judges are industry professionals who look for companies and individuals whose talent exceeds a high standard of excellence and whose work serves as a benchmark for the industry. Winners were selected from 241 categories for websites, videos, social media, paid media, owned media, earned media and digital marketing and communication programs.
This is the second award that AIM Consulting has won for its website this year. The company's website is also a recipient of the
Hermes Award in the Platinum category for professional services
.
About AIM Consulting
AIM Consulting, an Addison Group company, is a rapidly growing leader in technology consulting services and solutions delivery that helps companies compete effectively in the digital world. AIM builds long term relationships with the best technology consulting talent in the region and deliver end-to-end on business-critical initiatives with modern technologies and processes. Founded in 2006, AIM Consulting provides strategic guidance and scalable project teams in the areas of Application Development, Data & Analytics, Delivery Leadership, Digital Experience & Mobile, and Infrastructure, Cloud & Enterprise Service Management. Headquartered in Seattle with offices in Denver and Minneapolis and the capability to deliver solutions across the US, AIM Consulting has been repeatedly recognized as one of the nation's fastest growing private companies and best places to work. Learn more at aimconsulting.com.
Contact
AIM Consulting
Amy Stewart
206-624-5333
aimconsulting.com

Contact