Hedley Productions Takes Bets on Who Will Win the Battle Between Good and Evil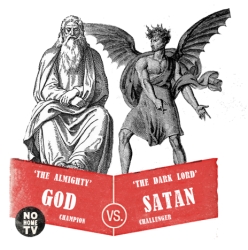 Brooklyn, NY, June 12, 2017 --(
PR.com
)-- In the eternal battle between God and The Devil, a battle that has caused wars and laid out the philosophies by which many people live, independent film company, Hedley Productions is asking the public who is winning and to put their money where their mouth is?
At
www.votethewinner.net
, visitors to the site can vote on God or The Devil, or a write in. Proceeds from this social experiment go toward Hedley Productions next film project, which parallels the crowd funding challenge. There is no limit to the number of votes a person or group can cast. A daily tally on the website will show who's in the lead and pictures of peoples' write-ins will encourage multiple visits and votes to the site.
Hedley Productions Senior Producer, Ben Padua answers many of the questions the public might have about this two month crowd fund such as:
"Is this real? Of course it is. It's on the Internet."
"What is Hedley Productions doing with funds? We're raising money for a film with a theme that mirrors this social experiment.
"Why is Hedley Productions doing this? Because this is America and here, we pick our idols and beliefs based on who we are told our idols and beliefs are."
"What side is Hedley Productions voting for? We are sideless. We are just observers. And then we will stand with the winning side."
When asked how he thinks people will react to the site, Padua goes on to say, "It's supposed to be fun. We hope that some people will think it's a cheeky idea to raise funds for a film and vote. Some people will be completely outraged and also vote. Both make the experiment a success." So, Hedley Productions is drawing the line. And the internet battle of good, evil, and social opinion is happening at www.votethewinner.net
Contact
Hedley Productions
Peggy Sloin
(614) 571-3546
www.hedleyproductions.com

Contact