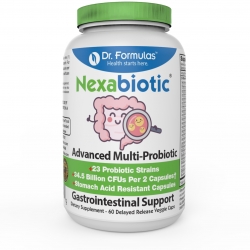 Huntington Beach, CA, June 15, 2017 --(
PR.com
)-- With an abundance of medication, vitamins, and supplements available, it can be difficult for consumers to know what types of products are best. Independent drug testing procedures help provide nonbiased information to buyers as to what types of supplements are most advantageous. DrFormulas' advanced multi-probiotic, Nexabiotic®, was recently tested by Labdoor and passed four of four contaminant tests.
Nexabiotic
® is a powerful probiotic, created by DrFormulas, that aids the gastrointestinal tract. The supplement helps to restore digestive balance by providing the body with 23 types of probiotics. These probiotics assist in digestion, provide important nutrients, and fight off harmful bacteria that could be living inside the body.
Labdoor is an independently operated company that tests a variety of medications and vitamins on the market. In their tests, they evaluate products to see if their ingredients are true to their label, and also to verify if there are additional harmful ingredients or contaminants present.
When tested by Labdoor's team, Nexabiotic® passed four of four contaminant tests and as such was deemed to have an accurate label, accepted as a pure product, determined to have quality nutritional value, and verified to have safe ingredients for human consumption. In fact, Labdoor found Nexabiotic to have 91% of the colony forming units (CFUs) claimed on its label.
Dr. Bryan Tran, DO, CEO and co-founder of DrFormulas, had this to say about the testing of Nexabiotic®, "Nexabiotic® is a quality probiotic that we at DrFormulas worked diligently to create. When our team received the results from Labdoor's tests, we were ecstatic. It's great to see our hard work pay off, and to know that Nexabiotic® is capable of passing a variety of tests issued by a third party company with flying colors."
About DrFormulas
DrFormulas has been selling and distributing their highly nutritional supplements since 2010. Products are created with the consumer in mind, meaning that every supplement is designed to be as effective as possible. Each product carried by the company is carefully researched by doctors and scientists before ever making it to the production line and eventually into your home, because at DrFormulas, you come first. Visit
https://drformulas.com/
to learn more.