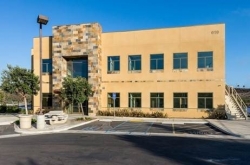 Oceanside, CA, June 15, 2017 --(
PR.com
)-- NCHS (North County Health Services) has announced that, on June 19th, it will open the doors of its new clinic, NCHS Oceanside Specialty Health Center. This specialty center is to be located on 619 Crouch St., in Oceanside, California, east of the San Diego freeway, and directly across from the already-established NCHS Oceanside Health Center.
This new location is just one among a lengthy list of facilities built to accommodate those in need of many health-related services. According to Carley Star, Director of Communications & Marketing of NCHS, "Our mission is to provide the underserved communities of North County with comprehensive healthcare services that are the highest quality while being culturally sensitive." The Oceanside Specialty Health Center will be number 13 on the list of various locations that NCHS currently owns.
Also referred to as the Loma Alta, the purpose of this new facility is to aid patients with specific conditions that may not be fully covered in other locations, or may be too costly at hospitals and private practices. It is part of the NCHS network and, as an individual clinic, serves specialized needs, including dental, chiropractic, and behavioral health. Like the other facilities, this location aims to fill these health needs as a premium service without the premium price. NCHS has long aspired to assist the people in North County with both exceptional and affordable health services.
Patients of the NCHS network can, overall, expect to receive care in a very wide range of areas, including, but not limited to, Adult Medicine, which is listed as disease treatment, management, and immunization, physicals, and much more; Pediatric Care, which includes immunizations, general physicals, ADHD treatment, and beyond; Women's Health, including family planning, pregnancy assistant, nutrition, etc.; Pharmacy Services with discounted medications offered; and Lab Testing and X-Ray services. Patients who choose the new Oceanside Specialty Health Center will have access to a broad range of dental care, such as exams, filling, cleanings, and more. They will also receive treatment for Behavioral Health issues. These concerns can be harder to address, and the new facility will give patients access to help with depression, bipolar and other disorders, and beyond.
NCHS also offers a service tool called, My Health. This tool permits patients to e-mail their providers, view their lab results, ask questions, check statuses, and more. "This and all of our services are our way of trying to make patients' lives easier," said Carley. "Just because the healthcare is affordable doesn't meant that it can't be excellent, or come with perks like MyHealth that make it easier for the patient."
The NCHS Oceanside Specialty Health Center location is fully prepared to accept patients seeking the facility's services. "We are already allowing people to make appointments at the Oceanside location," Carley continued. "We're excited to expand access to specialty services for our patients!"
To make an appointment at the new NCHS Oceanside Specialty Health Center, or to learn about its services, call (760) 736-6767. For more information on NCHS, its facilities, hours of operation, and more, visit
http://www.nchs-health.org
.
About NCHS
NCHS was founded in 1971 to serve the rural areas of Ramona, Pauma Valley and San Marcos in North San Diego County, Calif. Its goal is to improve the health status of Southern California's diverse communities by providing quality healthcare that is comprehensive, affordable, and culturally sensitive. For more information, visit
http://www.nchs-health.org
.