Artist Living with Pain Releases "Finding Your Colors," a Fine Art Adult Coloring Book for Stress & Anxiety Relief
"Finding Your Colors" is now published. It is a fine art adult coloring book for stress and anxiety relief, created from pain and inspired by depression.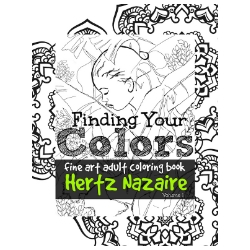 Bridgeport, CT, June 13, 2017 --(
PR.com
)-- "Finding Your Colors" is a series of fine art adult coloring books created by Haitian born artist Hertz Nazaire. This project was taken on with the goal of addressing a need in the Sickle Cell Community to have a coloring book that is relatable to those in this community. The artist has used his own experience living with the pain of Sickle Cell Anemia and Depression to create an effective art therapy tool for stress and anxiety relief. "Finding Your Colors" is a solace for the mind away from pain and depression.
About the Artist:
Hertz Nazaire was born in Port-Au-Prince, Haiti and has been painting and sharing his love for art in Bridgeport, Connecticut for over 20 years. Working mostly with colorful oil pastels on board often depicting subjects influenced by Haitian Culture, History, and Life.
Nazaire was born with Sickle Cell Anemia, a very painful illness which has motivated him to paint about pain and to strongly question a human's ability to learn compassion and feel empathy which he explores and hopes to inspire in his art. His award winning Sickle Cell Awareness series has been published around the world in medical books and magazines promoting education and awareness of the disease.
Nazaire has set a goal for his new coloring book series, "Finding Your Colors"; he hopes to be able to afford to send 50 coloring books and 50 coloring pencil sets to local Sickle Cell community based organizations around the world, so they can be gifted to a warrior fighting the pain on a hospital bed. And he hopes to challenge others to do the same, so that we all can learn to find our colors through fine art coloring books.
Finding Your Colors ISBN 978-0999120101
Contact
Indigo Book, LLC
Hertz Nazaire
203-243-2377
www.indigobook.com
www.facebook.com/nazaire73

Contact