Lockdowel Chooses Charles McMurray Company to Distribute Glue-less, Tool-less EClips Fastening for Furniture and Cabinets
Revolutionary creator of glue-less assembly method for furniture and cabinets selects Charles McMurray Company for California and Nevada distribution.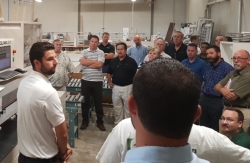 Fremont, CA, June 21, 2017 --(
PR.com
)-- Lockdowel announces it has selected Charles McMurray Company as their first distributor, serving California and Nevada. Charles McMurray representatives will demonstrate, service and sell the Lockdowel glue-less, tool-less fastening system to furniture and cabinet manufacturers in its authorized region. Charles McMurray Company is a wholesale distributor of cabinet, door and other hardware products servicing more than 6,000 wood industry customers throughout California and Nevada.
"We are extremely excited to participate in the growth of Lockdowel and are ready to kick things off," Justin Gainer, Charles McMurray Sales Manager says. "We believe Lockdowel fastening systems are revolutionizing the way cabinets are assembled. We will be training all of our 19 outside sales reps and preparing them with the information they need to show how Lockdowel can make their woodshops more money with less labor and time."
"We chose the Charles McMurray Company to represent the Lockdowel EClips Fastening system because their representatives assist their customers in making critical purchasing decisions to help run more productive fabrication shops," Lockdowel President and Co-founder Bryan Koelling says. "The seasoned industry professionals that Charles McMurray Company employs understand the woodworking business, and how eliminating the gluing process can increase the businesses owners' profits - 60% more!"
Lockdowel EClips is the revolutionary, glue-less, tool-less, easiest and fastest method to assemble cabinets and furniture. Lockdowel EClips cabinet construction methods comply with ANSI, BIFMA, WI and AWI Certification standards.
"By implementing the Lockdowel assembly method, our customers can save two thirds of their costs on labor, alone," Koelling says. "It's not just great for the guy building a cleaner cabinet without the mess of glue. It makes the entire business more profitable and productive, allowing for flat packing, fewer techs and faster job turn around times."
About Charles McMurray Company
Charles McMurray started in the hardware industry as a traveling salesman for Washington Steel Products. Charles McMurray Co. was founded in 1946 by Charles and Cassie McMurray. The first warehouse was a chicken coop located on Cassie's family property at the corner of Belmont and Maple in Fresno. In 1956 the chicken coop was replaced by a metal building. In 1978 a purposefully built warehouse was constructed near Clinton and Argyle, where it has been expanded and headquartered ever since.
Charles McMurray Company representatives rise above other sales representatives because they put their customers' first. Each representative is a seasoned professional with an average of 22 years industry experience. Charles McMurray Company customers include:
- Cabinet Shops
- Door Shops
- Dealers
- Government Institutions
- Locksmiths
- Lumber Yards
- Modular Kitchen Distributors
- Counter-top and Solid Surfacing Shops
Contact: Charles McMurray Company, Fresno Warehouse 2520 N Argyle Ave Fresno, CA 93727-1399 (559) 292-5751, www.charlesmcmurray.com for more information.
About Lockdowel
Lockdowel manufactures fasteners, drawer slides and hinges for fast and easy installation of cabinets, furniture, closets and architectural millwork. Patent pending. Lockdowel 48834 Kato Road #110A Fremont, CA 94538; (650) 477-7112 www.lockdowel.com Come to Lockdowel booth number 9256 at AWFS Las Vegas to see the fastest, glue-less, tool-less, RTA assembly solutions today!
Contact
Mary Lynn Heath, PR
Mary Lynn Heath
405.641.9733
www.lockdowel.com

Contact