NAFA Unveils Redesigned Website
A New Clean Design and Simplified Navigation Improves Overall Experience.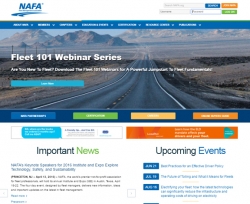 Princeton, NJ, June 20, 2017 --(
PR.com
)-- NAFA Fleet Management Association (NAFA) has unveiled the new, completely redesigned www.nafa.org website providing more value to the memberships and visitors. Touting mobile-responsive, easy-to-navigate layout, the website provides users with advanced functionality and enhanced content.
"The clean, modern look of the redesigned www.nafa.org brings first-time visitors and frequent users alike a superior showcase for all that NAFA has to offer," said NAFA's Chief Executive Officer, Phillip E. Russo, CAE. "The site's new functionality is targeted and precise, offering a user a streamlined, immersive experience."
Visitors to www.nafa.org will find:
-Improved navigation and search functionality
-Responsive design for mobile visitors
-Sortable calendar of events
-Fleet community forums
-Easy access to NAFA webinars
-Enhanced purchasing experience for NAFA products and services
Russo added, "The new www.nafa.org offers fleet professionals a consistent web experience across all platforms, and brings users what they need with ease and speed. It is a phenomenal new era for NAFA's digital presence."
Visit www.nafa.org to begin exploring NAFA's new website today.
About NAFA Fleet Management Association
NAFA is the association for professionals who manage fleets of sedans, public safety vehicles, trucks, and buses of all types and sizes, and a wide range of military and off-road equipment for organizations in North America and across the globe. NAFA's members are responsible for the specification, acquisition, maintenance, repair, fueling, risk management, and remarketing of more than 4.6 million vehicles that drive an estimated 50-billion miles each year. NAFA's members control assets and services well in excess of $100-billion each year.
NAFA's members manage fleets for corporations covering a wide range of manufacturing and service organizations, governments (whether local, state and/or federal), and public service entities (public safety, law enforcement, educational institutions, utilities, etc.); still other members serve financial institutions, insurance companies, non-profit organizations, and the like. For more information, visit http://www.nafa.org.
Contact
NAFA Fleet Management Association
Donald Dunphy
609.986.1063
www.nafa.org

Contact