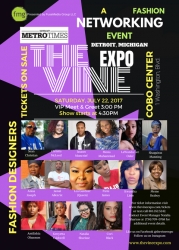 Detroit, MI, June 23, 2017 --(
PR.com
)-- The fashion industry today is growing with each passing day. A large number of people are becoming a part of it in one way or the other. This industry is so diverse and there are so many people eager to learn more about it. To meet the needs of the people, VINE EXPO was born. It is a Fashion Runway, Exhibit and Networking Event that will be taking place on July 22, 2017, at the International COBO Center Downtown Detroit. FuseMedia Group LLC is the presenting company for the event. The fashion industry in Detroit will reach new heights after the VINE Expo is over. This awesome and well-awaited event will be sponsored by a truly amazing group that includes METROTIMES,
Sensual Vines
and
Rendavu
.com (the new online interactive dating community). The event is planned for 2018, with a 2 day extension which will surely have a huge impact on the fashion industry.
The team of VINE Expo is very hardworking and dedicated to making it a success. It is expected that this remarkable event will return every year annually and be held at the COBO Center in Detroit. With each passing year, the popularity of this expo would increase and so there would be more attendance, viewership and mainstream media. It is their goal that the VINE Expo is rebranded as The Fashion Weekend in the 'D'.
There are some amazing designers for across the states that will stride the VINE Expo runway: Lea Gardner, Queen from Columbus OH; Anisa Joseph, Unique Stylz from Detroit, MI; Jasaun Moncrief, Adam DeVine Clothing, from Detroit, MI; LaWanda Lee, LaFashioniStar, from Detroit, MI; Mona Mohammad, Knotty Creations, from Chicago IL, Meme Braboy, Michelle's House of Designs, from Chicago; Shay Manning, Sazzy Gyrl's from Sacramento CA; Jamal Allen Sr., Unite Us All; David M. Wynn, T.H.U.G. Apparel; Natalia Sharisse, Adorations; and Cori Black, JuCori Boutique from Detroit and along with other designers with style that will dazzle the audience.
It is anticipated that this expo would reach an audience of 1-2 million people, designers, over 100 models, vendors and an amazing group of volunteers and supporters who have the same vision as the VINE Expo team. Get ready to witness something fun, exciting and extraordinary. For ticket information visit
www.thevineeexpo.com/tickets
. The VINE EXPO will be something amazing worth remembering.