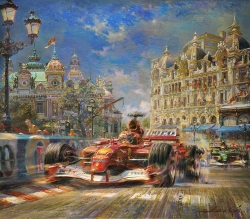 Orlando, FL, June 26, 2017 --(
PR.com
)-- Born in Uruguay in 1945, Alfredo de La Maria studied art and architecture at the Bellas Artes School, in Montevideo. At the age of 18, he served as an illustrator of politics and sporting events for a leading newspaper and in 1961 he conducted his first exhibit of paintings in Punta del Este City. His subject matter included mainly equestrian and naval and aviation subjects. In 1966, De la María left for Europe where he settled in Paris over the next three years. Returning to Montevideo for a short time he traveled to Argentina, to take a position with an important publishing company in the city of Buenos Aires. It was there that he created illustrations for the covers for many of the larger magazines including Automundo, Parabrisas, El Tony and Dartagnan.
During this time, he became involved in automotive art, and in 1989 he made the first of his many exhibits at the Buenos Aires Classic Cars Club. In a short time, his paintings were known not only in Argentina but also around the world. His paintings have been exhibited at significant automotive events including the Pebble Beach Concours d 'Elegance, Retro mobile, the Cavallino Classic and others.
Festivals of Speed, which for the last fourteen years has showcased the world's most exotic automobiles, motorcycles, aircraft, watercraft and luxury brands throughout Florida has its roots in automotive art going back to the time when it was an automotive gallery in Mt. Dora, Florida called Europa gallery. It was a gallery promotion created to help sell the automotive art it had hanging on its walls that was concept for the soon to come Festivals of Speed automotive event. The promotion was a huge success as it sold every piece of automotive art available so the idea to do more automotive themed events took hold. Alfredo de La Maria prints were a big part of the galleries art collection so bringing back his artwork to Festivals of Speed was something the company has always wanted to do. Festivals of Speed founder Joe Sabatini had this to say, "Our roots as a company are in automotive art so we could not be more pleased to carry the works of such an internationally known and respected artist like Alfredo de La Maria. Having the exclusive rights to his two newest original oil paintings is something we are also very proud of…" Festivals of Speed will feature the art work on its website and at Festivals of Speed events throughout Florida. They plan to take the art on tour to other locations throughout the country later this summer.
About Festivals of Speed
Festivals of Speed with headquarters in Eustis, Florida has operated for the last 14 years as the ultimate luxury showcase for discerning enthusiasts with a passion for all forms of transportation and luxury brands. The events display the world's most exotic automobiles, motorcycles, watercraft, motorcycles & luxury brands throughout Florida. Plans to operate in Georgia are underway for Fall 2017.
For more information:
Joe Sabatini
Festivals of Speed
2750 Dillard Road, Unit 8 Eustis, FL 32726
352-385-9450
joe@festivalsofspeed.com
www.festivalsofspeed.com
Please note: We have high quality images available for this press release. Simply contact us and we will send you a Dropbox link.