EpiphanyAI Top Colorado Company to Watch Winner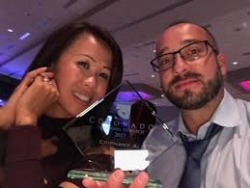 Denver, CO, June 26, 2017 --(
PR.com
)--
EpiphanyAI
is honored to announce they are voted one of the Top 50 Companies to Watch by ColoradoBiz Magazine. With over 600,00 businesses in Colorado, and over 65,000 workers in the Advertising and Media business calling Colorado home, we are humbled to be included in the Top 100 finalist, and blown away by the recognition as one of the Top 50 Companies to Watch in Colorado for 2017.
Colorado Companies to Watch energizes the state of Colorado by recognizing second-stage companies that are developing valuable products and services, creating quality jobs, enriching communities, and creating new industries throughout the state. Second-stage companies fuel the economic fire in Colorado by accounting for much of the economic growth and economic independence of individuals throughout the state. And on Friday, June 23 rd , 2017 Epiphany Ai was awarded one of the Top 50 Colorado Company's to Watch award,marking years of dedication and hard-work from an amazing group of people.
"Epiphany Ai was selected based on their consistent local job creation, talented team, growth of revenue, and their relentless commitment to community investment. We're excited to be part of the class of 2017, and will access the resources of the Colorado Companies to Watch Alumni network to continue tackling issues in the fast-paced global advertising industry," said Brian Allen, the company's CSO.
"It's and honor to have our community and peers recognize our efforts. Being selected into this prestigious group of Colorado companies makes us proud, and we look forward to joining the alumni in nurturing our Colorado economy by being technology leaders and mentors," said the company's CEO, Joseph Salvador.
About Epiphany Ai
Epiphany Ai builds technologies that make digital publishing and advertising better. Through its unique and proprietary platform, they are able to improve yield for publishers while providing quality scale to advertisers in one, easy-to- use mobile-first interface. With partners across the globe, Epiphany works with the industries best and brightest on a mission to bring real value to our partners. The company is head quartered in Denver, Colorado and has been recognized as one of the state's most innovative companies and was the recipient of the 2017 Top 50 Colorado Companies to Watch award.
Contact
EpiphanyAi
Brian Allen
720-498-6226
https://epiphanyai.com/

Contact