ICC Turnkey Selected for Engineering, Design and Build of Kona Brewery
Project valued at $23M and will be in operation in early 2019.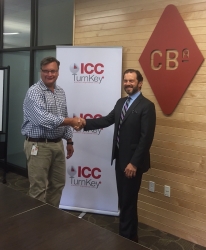 St. Louis, MO, June 27, 2017 --(
PR.com
)-- Kona Brewing Company, a top 10 national craft brewery and Hawaii's #1 local craft brewery, has selected ICC Turnkey to provide engineering, design and build services for its greenfield brewery in Kailua-Kona, Hawaii. The project, which is valued at approximately $23 million, will give Kona the ability brew up to 100,000 barrels per year, greatly increasing the brewery's production capacity and capability on the Islands. The new brewery, which will be located down the road from Kona's original brewery and brewpub, will feature a high-efficiency brewing system and canning line and cover over 30,000 square feet.
"In looking for a partner to design and build our new Kona brewery, we wanted to uphold the strong ethos of the Kona brand in creating a highly efficient and sustainable brewery that is unmatched in innovation. ICC Turnkey not only understands our objectives and business goals, they appreciate Kona's rich local history and commitment to the Islands and are providing us with solutions that meet our standards and enable us to continue giving back to the community where Kona started," said Scott Mennen, Chief Operating Officer, Craft Brew Alliance.
The brewery is designed to be highly efficient and enable Kona to produce one liter of beer, using only about three liters of water, which is 30% less than the industry average. The project scope also includes a state-of-the-art wastewater treatment plant, rooftop solar panels, and a biogas system that will generate energy for re-use in the brewing and packaging operation.
"ICC Turnkey is excited to work alongside CBA and Kona Brewing Company to develop a highly efficient, fit-for-purpose, and well-designed brewery that will be part of the Kona community for years to come," said Alex Alexandrov, President, ICC Turnkey.
ICC and ICC Turnkey are providers of engineering and management consulting services. Headquartered in St. Louis (USA) ICC offers a wide range of services - from greenfield factory design to here-and-now production line adjustments. Learn more at www.icc-inc.net.
Kona Brewing Company was started in Kailua-Kona on Hawaii's Big Island in the spring of 1994 by father and son team Cameron Healy and Spoon Khalsa, who had a dream to create fresh, local island brews made with spirit, passion and quality. Today, Kona is Hawaii's largest and favorite craft brewery, known for top-selling flagship beers Longboard Island Lager and Big Wave Golden Ale and award winning innovative small-batch beers available across the Islands. In 2014, the company achieved a milestone in its home state, selling more than 1 million cases. in the Islands for the first time in its history. Kona Brewing Co. is part of Craft Brew Alliance (NASDAQ: BREW), a leading craft brewing company.
For media inquiries, please contact Sara Bouffard at sara@bouffardgroup.com or 713.540.7500.
Contact
ICC Turnkey
Sara Bouffard
713-540-7500

Contact