Uber Rare Factory PORSCHE 993 Series GT2 Evo, 1 of Only 11 Produced to Tour with Festivals of Speed
A highly sought after and very rare 993 series PORSCHE GT2 EVO will be going on tour with the Festivals of Speed this summer and throughout the 2017-2018 season. The car which was produced by the PORSCHE factory and is just one of eleven made features a twin turbocharged 3.6L flat-6 engine factory rated at 600 HP with 490 ft. lbs. torque. The engine is paired with a 6-speed manual transmission.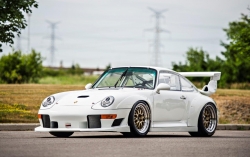 Orlando, FL, July 03, 2017 --(
PR.com
)-- Festivals of Speed has showcased the world's most exotic automobiles, motorcycles, aircraft, watercraft and luxury brands throughout Florida over the last fourteen years and has always featured both vintage and contemporary race cars at all its events. Porsche, Ferrari, Aston Martin, Bentley and many other manufacturers have had examples displayed at Festivals of Speed events countless times. Venues include the Ritz-Carlton Orlando, Omni Amelia Island Plantation Resort, Renaissance Vinoy Hotel St. Petersburg, The Mission Inn Golf Club, the Diplomat Golf & Tennis Club in Hallandale and the Winter Garden Atrium and plaza in Manhattan to name just a few.
In the early 1990s, Porsche was racing in various GT2 competitions using its 993-series 911 GT2 race car. However, the manufacturer needed something more extreme to race in GT1 events. Hence, the 911 GT2 Evo was born and for homologation purposes some road-going examples were required. Only 11 of these homologation cars were built in 1996 as Porsche that year unveiled the new 996-series 911 GT1.
The EVO incorporated a twin turbocharged 3.6L flat-6 engine rated at a full 600 HP with 490 lb-ft of torque.
Porsche widened the rear fender extensions to cover wider modular wheels and added a new front spoiler with inlets for oil and brake cooling. Mike Flynn partner in Festivals of Speed and owner of the EVO had this to say, "The vaunted PORSCHE GT2 EVO exemplifies what PORSCHE is all about in the world of auto racing and we are proud to have this significant car joining our display…" PORSCHE added a second deck on the already outlandish rear spoiler, which could be mounted higher in the air stream for added downforce. With only eleven built, this makes these cars among the rarest in the 911 racing lineage. With approximately 7,000 kilometers on the odometer, this GT2 Evo is exactly as it left the factory, an artifact from one of the most exciting periods in Porsche's racing history. When commenting on the EVO, Joe Sabatini also of Festivals of Speed had this to say, "The EVO represents the ultimate in air cooled technology for a PORSCHE built in the 90's and with only 11 ever made it literally defines exclusivity…"
The EVO joins another equally historic and exclusive PORSCHE race car that will be displaying with the Festivals of Speed this season. Universally acknowledged as the world's fastest Porsche 962 in the era, the 1988/89 PORSCHE 962 Chassis number: 962-108 CO2 Miller High Life & B.F Goodrich car is a car of iconic status and will be seen on display alongside the EVO at Festivals of Speed during the 2017-2018 season.
About Festivals of Speed
Festivals of Speed with headquarters in Eustis, Florida has operated for the last 14 years as the ultimate luxury showcase for discerning enthusiasts with a passion for all forms of transportation and luxury brands. The events display the world's most exotic automobiles, motorcycles, watercraft, motorcycles & luxury brands throughout Florida. Plans to operate in Georgia are underway for Fall 2017.
For more information:
Joe Sabatini
Festivals of Speed
2750 Dillard Road, Unit 8 Eustis, FL 32726
352-385-9450
joe@festivalsofspeed.com
www.festivalsofspeed.com
Contact
Festivals of Speed
Joe Sabatini
352-406-9325
www.festivalsofspeed.com

Contact