Shainsware Debuts Eco Friendly Recycled Fashion Accessories - Now You Can Say What You Want, Wear It and Mean It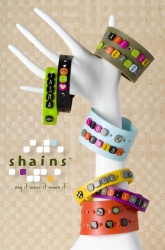 Los Angeles, CA, February 14, 2008 --(
PR.com
)-- Shainsware has introduced Shains™, recycled fashion accessories that enable people of all ages to share their messages and change them whenever they want. Launched in 2007, the company is debuting new products at New York Toy Fair in Booth 6446. Shains are one size fits all recycled rubber bracelets and cuffs available in 9 cool colors. To make your very own message, simply spell it out with letters, numbers, and over 36 cool icons that symbolize our world today. Shains are made of recycled materials and are recyclable. All packaging is recycled. The company launched in 2007 with great consumer and retail response.
"There has been an amazing response" according to Ewa Martinoff, President of Shainsware, "Everyone who sees Shains has a new idea as to how to use it, what to say, and are excited that it is green." Shains enables and empowers while being good to the earth. Shainsware is dedicated to developing products that are good for people and good for the earth, and are standing behind their commitment with a portion of net proceeds going to environmental organizations.
Shainsware was launched in 2007 by Ewa Martinoff, a longtime corporate marketing executive who saw an opportunity to develop a product line that gets people motivated to communicate and have fun and be beneficial to the earth while enjoying the products.
The launch collection is currently available in stores and online with new products launching in February at the New York Toy Fair in booth 6446. For additional information or a sample, please contact Linda Licitra, at Linda@shainsware.com or 818 404 9131. To see all the products and get more information visit shainsware.com.
Shains, Say It, Wear It, Mean It, cool recycled rubber fashion accessories for all ages.
###
Contact
Shainsware
Ewa Martinoff
818 404 9131
shainsware.com

Contact