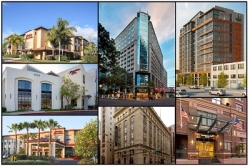 Spartanburg, SC, July 11, 2017 --(
PR.com
)-- As one of America's fastest-growing private companies, OTO Development expands consistently via smart developments and savvy operations – for itself as well as an increasing number of hotel ownership groups.
The Spartanburg SC-based hospitality company develops, owns and operates its own portfolio of upscale select-service hotels while also lending its expertise to third-party management clients ranging from publicly traded REITs to private equity firms to high net worth individuals. The company currently operates 66 properties in all, including seven new management contracts recently added in key urban markets, with several more in the pipeline.
"We are experiencing – and pursuing – significant growth in our managed portfolio," says Corry Oakes, President/CEO of OTO Development, a Johnson Management company. "OTO's third-party management clients appreciate our ability to turn properties quickly – most in less than 30 days – followed by a proven operations strategy that provides measurable results in revenue, profitability and guest satisfaction."
With a scalable platform comprising technology, human resources, revenue management and ecommerce functions, OTO offers a return on investment that outperforms industry standards.
"Our breadth and depth of experience – especially in urban markets – positions us to drive revenue and growth for the ownership groups that entrust us with their operations," says Jason Boehm, Vice President of Business Development at OTO. "Our strategic initiative to expand third-party partnerships is accelerated by a proven ability to increase the value of every property in our managed portfolio. We are excited about ongoing discussions on new opportunities with interested REITS, private equity firms and individuals."
OTO's latest contract acquisitions include Hyatt Place Washington DC/US Capitol in Washington DC; Courtyard Charlotte City Center in North Carolina; Hampton Inn & Suites San Diego/Poway, Hampton Inn & Suites Camarillo and Hampton Inn Santa Barbara/Goleta in California; and Residence Inn Baltimore Downtown/Inner Harbor and Hampton Inn Baltimore Inner Harbor in Maryland.
About OTO Development
OTO Development, a Johnson Management company, is an award-winning, fast-growing hotel development and management company. Founded in 2004 and partnering with the Hilton, Hyatt and Marriott brands, OTO's industry leadership position is anchored by a portfolio of excellent hotels staffed by exceptional people. The company has developed more than 60 hotels over the past 13 years while also adding to its list of managed properties, which now comprise 8,550+ room keys. Today, OTO's impressive growth is focused on new urban development projects in San Francisco, Los Angeles, San Diego, Manhattan and Washington DC as well as increasing emphasis on adding new management contracts with clients ranging from publicly traded REITs to private equity firms to high net worth individuals. For more information, visit OTODevelopment.com.