South Coast Surety's New Program Helps Landscape Contractors Generate More Profits
Fear of dealing with Surety Bond Companies keeps a lot of Landscape Contractors from bidding on annual maintenance contracts or landscape installations and repair work. South Coast Surety has developed a new Commercial Contract Surety Program that actually helps firms get established or improve their ability to bid on the growing number of public works.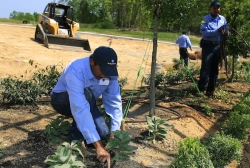 San Clemente, CA, July 19, 2017 --(
PR.com
)-- Whether you do regular Landscape Maintenance, Landscape Installations or both, South Coast Surety's Bond Program makes the difference for the future growth of your company. There are many public entities looking to contract out their maintenance services and along with the growth in infrastructure construction comes more public works landscaping projects.
Performance surety bonds for the Landscape Industry usually fall within the definition of a Commercial Contract Bond. This classification of surety bonds is different from the usual Construction Contract Bond and when dealing with a professional surety agent experienced in this sector of surety bonding, much easier to get.
What is a Commercial Contract Bond?
Service and Supply/Install Contract Surety Bonds provide financial security for non-construction contracts by assuring the owner (Obligee) that the contractor (principal) will perform the work and pay certain subcontractors, laborers, and material suppliers.
Commercial Contract Bonds include:
Bid bonds, which provide financial assurance that the bid has been submitted in good faith, and that the contractor intends to enter into the contract at the price bid and provide the required performance and payment bonds.
Performance bonds, which protect the owner from financial loss should the contractor fail to perform the contract in accordance with its terms and conditions.
Payment bonds, which guarantee that the contractor will pay certain subcontractors, laborers, and material suppliers that, are associated with the project.
Landscape Contract Surety is Relationship Driven
Most surety companies issue service bonds through surety bond producers. The first step toward establishing surety credit is to contact a professional surety bond producer who:
* Understands the intricate process of surety bonding and the unique underwriting standards and practices of individual surety companies;
* Matches the needs of the contractor with the surety company that is best suited to service those needs;
* Guides the contractor through the bonding process and assists in managing the contractor's surety capacity;
* Creates and nurtures a successful relationship between the contractor and the surety company;
* Provides introduction to qualified accountants, bankers, and lawyers who understand the construction business;
* Offers sound business advice, management consulting, and technical expertise to help the contractor maintain growth and profitability.
As with all contract bonds, Landscape Contract Bonds are usually underwritten with a full submission of a questionnaire, financial statements, etc. South Coast Surety"s new program makes it much easier to either get started or improve your surety support.
South Coast Surety is the National Leader and expert in providing
Commercial Contract Programs
that get you bonded based on your experience. With the spike in public bidding and the ease of getting started or improving your bond support, it could not be a better time to look into surety and public works for your profit growth.
South Coast Surety
services thousands of insurance brokers and direct surety accounts across the country. They also have significant in-house underwriting authority for commercial and contract bonds with a number of surety companies. South Coast Surety has now crafted a special program dedicated to getting the best surety support for the Landscape Industry.
Contact
South Coast Surety
Steven Swartz
949-361-1692
www.southcoastsurety.com

Contact