National American Miss State Finalist
Miss Josie Cabrera will be competing in the National American Miss Junior Teen Division as a State Finalist held on July 30th, 2017 at the beautiful Indian Wells Resort in Indian Wells, CA.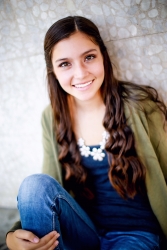 Riverside, CA, July 17, 2017 --(
PR.com
)-- The National American Miss Pageant System is the largest in the nation. The focus of this organization is to create future leaders and to equip them with real-world skills to make their dreams a reality. The program is based on inner beauty, as well as poise and presentation, and offers an "All American spirit of fun for family and friends." Emphasis is placed on the importance of gaining self-confidence and learning new skills, such as good attitudes about competition, as well as setting and achieving personal goals.
Miss Cabrera is excited at the potential of being crowned Miss Junior Teen California. As an entering Junior at Riverside Poly High School, Josie is concert master and first chair violinist of the high school orchestra. In addition, she prides herself in her academic achievements including State of California Delegate for the Future Scientists and Medical Leaders held in Boston, MA in 2016 and a GPA of 4.3. She looks forward to a career in Forensic Pathology.
Miss Cabrera has dedicated business support in her pageant endeavors. She is representing over 40 businesses as they support her dreams to become National American Miss Junior Teen California. Sponsoring businesses include: Juice It Up, Salt Water Sandals, Maxwell Clothing, Little Words Project, The Silver Loft, Navy Peonies, Barefut Essentials, Hidden Room, Wyeth USA, Palace Rings, Brooke & Em Clothing, Thread Wallets, Lo & Sons, Lift Coffee Roasters, Division Jewelry, Rockcakes, Vulcan Bags, Everything AF, LuLaRoe Lisa Maxfield, VANLife, Wanderer Bracelets, Made by Mary, Rad Swim, CZND, Edge of Print Pins, Praireland Herbs, Coral Reef Swimwear, Venture Forth, Eco Tan, Barnyard Peacock, Simplicity in Mind, Destiny City Threads, Orly Beauty, Amoluz, Cinder Charcoal, Primally Pure and Lips by Taysha.
Contact
National American Miss State Finalist
Josie Cabrera
951-204-5037
namiss.com

Contact