Lori's Original Lemonade Looks to the Classics in Their New Flavor Launch
Lori's Original Lemonade adds 2 new flavors to their product lineup just in time for Summer.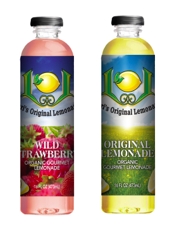 Ventura, CA, July 18, 2017 --(
PR.com
)-- Lori's Original Lemonade has always been known for their unique and refreshing lemonades. Today, the brand is announcing two new flavors to their lineup that are bringing a little more of the classic flavors to their customers. The new flavors, Wild Strawberry Lemonade and Original Lemonade will be joining their three existing flavors, Lavender Lemonade, Ginger Lemonade, and Lemongrass Lite Lemonade.
Although the new flavors may be more of a nod to the classics, they are anything but plain. Each flavor is made with organic fresh lemon juice and unprocessed organic cane sugar. Wild Strawberry uses only the freshest and sweetest organic strawberries to give the beverage a hint of summer in every sip. The Original Lemonade flavor tastes similar to regular lemonade, but the unprocessed cane sugar leaves a slight hint of honey in each bottle. Lori's Original Lemonade sources only the purest ingredients, locally whenever possible. This commitment to high quality handcrafted beverages has resulted in an outstanding product with little environmental impact.
The company is at a point of huge growth and expansion and knew it was the perfect time to bring in new flavors to their existing line. "Our customers love all three of our current flavors and have been asking for more," says Founder and Chief Believer, Lori Volk. "We wanted to show them our spin on classic flavors. We wanted to show them that classic can be special too and are already seeing great response."
The new flavors are currently available in select markets throughout California and are always available on www.Lorisoriginallemonade.com. The 3 original flavors of Lori's Original Lemonade are currently available in over 850 local and major grocery stores throughout California, Nevada, Arizona, Hawaii, Oklahoma, Kansas, and Connecticut and will soon be joined by the new flavors.
About Lori's Original Lemonade
Lori's Original Lemonade's Chief Believer/Founder Lori Volk created her signature drink, Lavender Lemonade, years ago for her children's lemonade stand in Ojai, CA. Fast forward to her young children heading off to college years later, Lori needed to find a way to combat the rising costs of college housing expenses. Lori decided to bottle this signature recipe and officially launched Lori's Original Lemonade in February 2011. Lori's Original Lemonade has since grown to include Ginger Lemonade and Lemongrass Lite Lemonade. Lori's Original Lemonade's organic and high quality lemonades have been awarded the prestigious Beverage World Magazine's Best in Show 2016 Award. Lori's Original Lemonade works closely with their community and is actively involved in fundraising events for local organizations.
For more information about Lori's Original Lemonade and where to find it near you, visit www.LorisOriginalLemonade.com. For media inquiries and requests for product samples and hi-res images, please contact Rachel Czyzynski at Rachel@NewLightCommunication.com.
Contact
Lori's Original Lemonade
Rachel Czyzynski
805-451-9515
www.lorisoriginallemonade.com

Contact