Faith Equestrian Therapeutic Center Finds Success with Help from SCORE Mentors
With the help of two local Savannah SCORE mentors, an exceptional non-profit organization that provides equestrian-based experiences to children with disabilities has been able to succeed, grow and improve the lives of over 150 deserving children.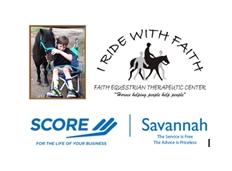 Savannah, GA, July 20, 2017 --(
PR.com
)-- Faith Equestrian Therapeutic Center Finds Success with Help from Savannah SCORE Mentors.
When Bonnie Rachael, a 14-year veteran of Savannah's Mounted Police Force with over 40 years' experience with horses, decided to retire, she wanted to continue to do something to serve the community. Bonnie saw that children with disabilities were not able to engage in the same kind of social, fun, or physically and mentally stimulating activities that children can typically enjoy. So, to offer these children something special they could call their own, in 2006, Bonnie founded Faith Equestrian Therapeutic Center (FETC).
FETC's mission is to improve the cognitive, physical, emotional, and social well-being of children with disabilities by involving them in therapeutic equine activities that include horseback riding and the care and feeding of horses. FETC serves children with a wide range of disabilities including Down syndrome, autism spectrum disorder, spina bifida, cerebral palsy, traumatic brain injury, and vision and hearing impairment. FETC was recently honored with the Lowcountry Down Syndrome Society's 2017 President's Award for helping children with different abilities develop social skills, confidence and riding skills.
Ms. Rachael started FETC with a budget of only $25,000 and serving only two children. "Since we started working with our SCORE mentors in 2013, we have been able to grow a successful, well-run organization that now has an annual budget of over $200,000 and serves over 150 deserving children."
Savannah SCORE assists area entrepreneurs and small business owners with advice on managing their business challenges and opportunities. Drawing on years of experience as successful businesspeople in a wide variety of industries, SCORE's volunteer mentors provide free, confidential face-to-face and email-based mentoring to clients in all stages of business development, from start-ups to established businesses.
Michael Siegel, SCORE mentor, says, "Bonnie came to us when the challenges facing FETC became too difficult for her to address on her own. She was concerned that she might not be able to keep the business going." Michael adds, "It has been an honor for my fellow mentor, Denis Healy, and I to help this truly special organization continue to help improve the lives of some very special children."
Bonnie says, "Our SCORE mentors have taught us how to develop, review, and modify our business plan to meet the challenges we have faced as we have grown. I appreciate the ability to bounce ideas off of our mentors, knowing that they will be supportive but, at the same time, they will be honest about how we should, or should not, proceed."
Since 1964, SCORE has helped more than 10 million aspiring entrepreneurs. Each year, SCORE's 10,000+ volunteer business experts provide free and low-cost small business mentoring, workshops and education to 350,000+ clients in more than 300 chapters nationwide. In 2016, SCORE volunteers provided 2.2+ million mentoring hours and helped create over 56,000 new small businesses and over 78,000 new jobs.
For more information about starting or operating a small business, call Savannah SCORE at 912-652-4335. Or, visit SCORE on the Web at
www.score.org
.
And you can connect with SCORE at
https://www.facebook.com/SCOREMentors/
and
www.twitter.com/SCOREMentors
.
SCORE Contact:
Michael Siegel
443-994-9692
Contact
Savannah SCORE
Michael Siegel
912-652-4335
www.savannah.score.org

Contact