TRAVELSAVERS Celebrates Its Elite Agencies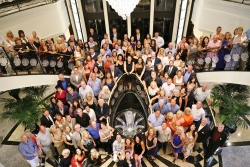 Oyster Bay, NY, July 21, 2017 --(
PR.com
)-- TRAVELSAVERS celebrated its Elite affiliates and preferred suppliers this past week in the Mediterranean onboard the luxurious Oceania Riviera. TRAVELSAVERS Elite Retreat is their way of saying "thank you" to their top producers in the United States and Canada. The Elite Retreat began in Rome and cruised to the Amalfi coast, Antibes, France, Monte Carlo, Palma De Mallorca, Spain and Marseille, France.
"The Elite Retreat is a special event that gives us the unique opportunity to say thank you to our top affiliates while experiencing a preferred product. We go out of our way to provide not only an incredible experience, but a memory that they will never forget," said Kathryn Mazza-Burney, Executive Vice President of TRAVELSAVERS and its parent company, American Marketing Group, Inc. "It's also a great way to spend valuable time with our business partners whom we consider family and allowing them to truly feel appreciated."
Playing host to this years' retreat was Oceania Cruises. Nikki F. Upshaw, Sr. VP of the luxury cruise liner commented, "On behalf of the Oceania Cruises family, we were delighted and so honored to host the 2017 TRAVELSAVERS Elite trip. We value our partnership with TRAVELSAVERS and this was the ideal way to show our appreciation and also share the Oceania Cruises experience with this esteemed TRAVELSAVERS group."
At the heart of the retreat and in between the private dinners, one on one meetings and exclusive shore excursions, is an opportunity for supplier executives and Elite attendees to come together in a fun, relaxed atmosphere and build lasting relationships.
About TRAVELSAVERS:
Owned by American Marketing Group, Inc., TRAVELSAVERS is an international travel marketing organization with a retail chain of more than 3,000 independently owned full service travel agencies in over 35 countries that together generate more than $20 billion in annual travel sales. Headquartered in Oyster Bay, New York, TRAVELSAVERS offers a comprehensive range of products and support services to help its licensed agencies maximize sales though a select group of suppliers – and stand out as travel leaders in their local communities. The marketing company also features a unique exclusive territory system based on populations of 50,000, so agents maintain control over clients and prospective leads in their exclusive area. Travel professionals interested in learning more about joining TRAVELSAVERS can visit http://sales.travelsavers.com
Contact
TRAVELSAVERS
Stefano Tromba
516-624-0308
sales.travelsavers.com/

Contact