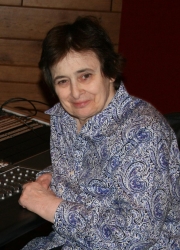 Memphis, TN, July 27, 2017 --(
PR.com
)-- Linda D. Lucchesi of Memphis, Tennessee has been recognized as a VIP Member for 2017 by Strathmore's Who's Who Worldwide for her outstanding contributions and achievements for over 55 years in the music industry, with an emphasis in music publishing and production.
About Linda D. Lucchesi
Linda Diane Lucchesi was born on December 5, 1947 in Memphis, Tennessee. She is the President of Simply Grand Music, Inc., a multi-faceted independent label, production and music publishing company. Formerly known as Sounds of Memphis/XL & Pen labels, Simply Grand Music, Inc. houses Beckie Publishing Co. and Memphis Town Music. They have a deep-rooted connection with Memphis music. From the 1960's to the present, they have prided themselves on displaying a talented collection of singers and songwriters. In 1965, the company produced "Wooly Bully" by Sam the Sham & The Pharaohs, and was named Billboard's "Number One Record of the Year." The group's second top-10 hit, reaching #2 on the Billboard Hot 100 in 1966 was "Little Red Riding Hood." Both hits sold over 1,000,000 copies, and became certified gold by the RIAA.
Continuing her father's legacy, Ms. Lucchesi began running the Sounds of Memphis recording studio in 1980. During her illustrious career, she has overseen the publishing catalogs for Beckie Publishing Co., Il Gatto, Sounds of Memphis, Memphis Town Music and Simply Grand Music, making countless music placements in film, television and advertisements. Linda is a voting member of NARAS "The Grammy's" and CMA. She is also affiliated with music organizations BMI, ASCAP, AIMP, NMPA, NSAI, and A2IM.
In addition to her love of music, Ms. Lucchesi is an author of children's books, a published poet-songwriter and an avid photographer, connecting fine art with the simplicity of nature. "Growing up in Memphis with a camera in my hand, I have combined my perception of beauty with much formal training. I worked as a commercial photographer before turning my lens to the fine arts. After extensive travels in the West and Canada, my passion for capturing the landscape and vast nature was heightened. My hope is that the simplicity of my unique photography will inspire you as it has me," states Lucchesi.
Ms. Lucchesi has many causes that are dear to her heart, especially when it pertains to animals and children. As an active member in the art community, she enjoys donating her photography to raise awareness for various rescue groups throughout Tennessee. For further information, please visit www.simplygrandmusic.com and www.lindalucchesiphotography.com.
About Strathmore's Who's Who Worldwide
Strathmore's Who's Who Worldwide highlights the professional lives of individuals from every significant field or industry including business, medicine, law, education, art, government and entertainment. Strathmore's Who's Who Worldwide is both an online and hard cover publication where we provide our members' current and pertinent business information. It is also a biographical information source for thousands of researchers, journalists, librarians and executive search firms throughout the world. Our goal is to ensure that our members receive all of the networking, exposure and recognition capabilities to potentially increase their business.