StoneStreet Painting & Construction - Take the Look of Your Residential or Commercial Property to the Next Level
From bathrooms and kitchens, to landscaping, full remodels, and advanced technology. StoneStreet has the design expertise to bring your vision to a reality.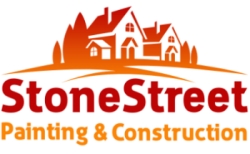 Kansas City, MO, July 26, 2017 --(
PR.com
)-- StoneStreet Painting & Construction is a residential and commercial remodeling company who provides services within the east, midwest, and west coast regions. What makes this company stand out from others is it's innovative ideas, passion for every project they take on, cost, reliability, and their desire to build long term relationships with their customers. Mostly anything their customers think of in regards to updates to their home or office, from small updates, to full restorations, can be acquired.
When it comes to the passion behind a company who thrives on creating new ideas daily and making them come true, the team at StoneStreet has what it takes and is loved by it's customers. They love what they do and the company they work for. The pride of each of their employees shows in their work.
With over 20 years of experience in residential and commercial design, StoneStreet can turn an existing, outdated house into a customer's dream home. They can take a customer's bare conference room within their office, and make it into their company's technology hub using advanced sound and video technology. They can take a customer's basic backyard pool, and turn it into an oasis with rocks, waterfalls, and plants that provide an outdoor relaxing spa-type experience. The possibilities are endless.
StoneStreet Painting & Construction has offices near you and welcomes new projects every day. Take full advantage of a home and office remodeling company that truly cares about it's customers.
Contact
StoneStreet Painting & Construction
Grace Morgan
800-343-5697
www.stonestreetpaintingandconstruction.com

Contact