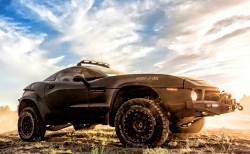 Chula Vista, CA, July 31, 2017 --(
PR.com
)-- 5 Star Preowned of California announced today that the legendary Rally Fighter from Local Motors is now available at their new dealership in Chula Vista, California and is a San Diego County exclusive.
The Rally Fighter is an important car in the automotive world as it is the first automobile to be successfully designed and built using crowd sourced design. In this case the crowd source design came in the form of an engineering contest on the internet put on by Local Motors of Arizona where the ideation of the crowd was contemplated and the best elements were implemented into the product seen today. Interestingly, the Rally Fighter incorporates all sorts of familiar and not so familiar elements which you can read about and discover on the Local Motors website.
The Rally Fighter has gone on to be wildly popular and known throughout the world as some sort of mythical beast and was featured on "Top Gear USA," Series 2.
The result is a street legal, off road monster that was designed and built to tame even the most demanding rally racing obstacles. What's more is that it achieves it in style much like the dealership it now calls home.
Come See one of the "Fast and Furious" Models at 5 Star Preowned of California at 801 Broadway in Chula Vista which is on the corner of "K" Street.
Anyone who knows Chula Vista or has visited the lot or has already purchased a vehicle there notices that this is no ordinary used car dealership. The dealership boasts an impressive collection of cars that suit all sorts of consumers desires or needs in a vehicle. The impressive inventory is consistently evolving and stocked full of quality vehicles of all sorts of makes and models.
This is the car lot of the future really as today's cars last longer with less maintenance than ever before. They have trucks, SUV's, sedans, sports cars, midsize cars, compact cars and everything in between which isn't something you see everyday in one place. In fact 5 Star's inventory is best of class just like their staff and customer service.
Customers feel comfortable here buying a pre-owned BMW, Audi, or Ford Pickup for that matter because the units on the lot are in excellent condition with pristine auto history and priced to move.
Its hard to find a pre-owned automobile in great condition with low miles at the prices available at 5 Star Preowned. The dealership is designed to deal with quality and unusual deals.
The owners here are seasoned professionals who strive to keep inventory rolling churning and are motivated to negotiate with their clientele and strive to keep customers and their friends and family coming back.
One thing for sure is that the star studded Rally Fighter can't be found anywhere else in San Diego and this model is from the film "The Fast and The Furious F8: The Fate of the Furious."
"Anyone who likes cars and exotic or rare automobiles will surely be excited to get a chance to see this car much less to own one. Well here's your chance to do both!" said Joe Kelly
Come down and see the new lot and have a coffee with co-owner Jo Kelly who knows quite a bit about racing having been a multi time champion of cross country snow mobile races in Alaska which is known to be one of the wildest and daring races ever conceived. Joe is also an avid racer and sand rail enthusiast among other platforms.
Joe's now racing to get you a great vehicle and a great deal and his team are there to serve your every need and get you in your next car.
The company's website is www.5starpreowned.com and the current inventory can be found there. Chula Vista has a great future and is rapidly changing and improving as it prepares for massive growth and this new dealership is ready for an ever growing success...and is now built for speed.
Videos of the Rally Fighter are all over YouTube but to really appreciate the beast you need to go down and sit in it or drive it off the lot for just around $120,000 as configured or custom order one directly through the dealership for as high as $200,000 The Rally Fighter can be customized for any enthusiast's desires.
Contact:
5 Star Preowned of California
801 Broadway
Chula Vista, CA 91911
619-677-1515
www.5starpreowned.com
www.rallyfighter.com