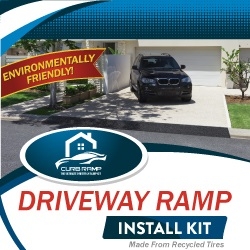 Atlanta, GA, August 10, 2017 --(
PR.com
)-- For 40 years developers have increasingly installed less expensive rolled curbs over traditional slanted driveways. Driving over these curb gaps can scrape the bottom of a car causing damage to a car's bumper, front splinter, skid plate, wheels, tires, steering and exhaust components. Curb Ramp™ bridges this gap allowing a car to glide smoothly over the driveway curb, reducing both the shock to the driver and damage to the car from bottoming out.
The Environmental Impact
Tires contribute millions of tons of waste into already crowded landfills – about 2 percent of total municipal solid waste. With their exceptional durability and flexibility, recycled tires have proven useful in a variety of ways including highway resurfacing projects for civil engineers, as fuel (TDF), in roofing, for playground and running tracks, mulch and DIY driveway repair solutions like curb ramps. However, only 35% of the approximately 300 million scrap tires that are generated each year in the United States are recycled and repurposed. The remaining 200 million are doomed to occupy these toxic landfills and pestilent junkyards. Fortunately, industry pioneers like Curb Ramp™ are developing creative ways to repurpose discarded tires to solve common problems.
Curb Ramp™ Home Driveway Ramp Kit
Curb Ramp™ provides consumers with an inexpensive do-it-yourself (DIY) solution to smoothing rolled curb gaps. The materials are easily mixed and shaped and can be spread to fit any sized driveway entrance - reducing damage to a car's steering components, lowering maintenance costs, and improving gas mileage. Installation is a simple as cleaning and priming the area to ensure a good material bond, laying PVC pipe to facilitate storm drainage, and spreading the mixture to fill the curb at the desired incline.
The company has plans to introduce the product into Home Depot retail stores nationwide in late 2017. For more information about
Curb Ramp™ - Eco-Friendly Driveway Ramp For Lowered Cars
, cruise on over to https://curbramp.us/.