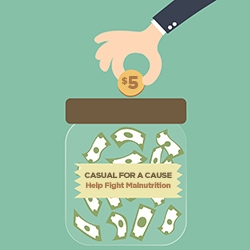 Hauppauge, NY, August 11, 2017 --(
PR.com
)-- The health of thousands of mothers and children around the world was supported this year thanks to fundraising efforts made by
dietary supplement manufacturer
Makers Nutrition. Employees of Makers Nutrition participated in the Casual for a Cause program to help support the well-being of 10,000 individuals suffering from malnutrition.
"The Makers Nutrition team is humbled to have the opportunity to support Vitamin Angels to improve the lives of so many children around the world," said Chris Zecha, Operations Facilitator of Makers Nutrition. "Our Casual for a Cause program was a hit with employees. Staff members were allowed to dress down in exchange for a $5 or $10 donation. These donations were then matched by the company and we raised more than $2500 to donate to Vitamin Angels," said Chris.
"This fundraising initiative built awareness for the cause while making the workday more enjoyable for Makers Nutrition employees; donors were proud to know their comfort helped make a significant difference for those in need," said Chris.
About Vitamin Angels
Vitamin Angels is a 501(c)3 tax-exempt organization based in Santa Barbara, California. Their mission is to help at-risk populations in need by providing lifesaving vitamins to mothers and children under age five at risk of malnutrition - reducing preventable illness, blindness, and death. They are reaching more than 52 million children and mothers in need in 66 countries worldwide.
About Makers Nutrition
The mission behind Makers Nutrition is to make vitamin manufacturing straightforward for customers. Makers Nutrition is organized for efficiency, our team includes personnel with specializations in customer service, production management, quality control, graphic design, information technology, laboratory science and research and development. For more on Makers Nutrition, visit, www.makersnutrition.com.