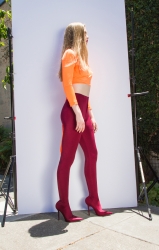 New York, NY, August 14, 2017 --(
PR.com
)-- "Ever since French fashion label Balenciaga showed its first PantaShoes on the runway, I became obsessed with them. PantaShoes - in case you don't know - are a hybrid of pants and shoes combined - or in this case it's leggings and shoes. They have a body conscious fit and are inspired by fetish catsuits," says the designer responsible for the Kickstarter campaign marketing the new LeggingShoe™.
"I thought at $2850 a pop not many women will be able to take part with this emerging trend. Disappointed with the trashy versions which are too sheer, made with low quality fabric that does not stretch back (no recovery), does not stretch enough or stretches too little depending on your shoe and body size (you can't choose your body size) and really uncomfortable shoes. I was facing the seemingly only option of spending $2850 on a pair at Balenciaga PantaShoes. But before I did, I decided to try and make a pair myself," says Idil.
The LeggingShoes™ prototype looks amazing and even better is the price at $47 a pop plus shipping and available to order in over 80 solid colors. It's definitely a life saver for fashionistas all over the world.
Preorder your pair now.
Did the world just get more fashionable?