Direct Longevity Care Comes to Seattle - Local Doctor Cuts Out Insurance Companies in Order to Provide Better Care
Dr. Madeira cuts out health insurance companies to provide functional and naturopathic medical care to his patients for affordable membership monthly fee.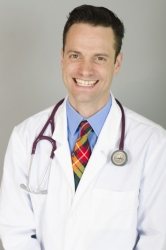 Seattle, WA, August 15, 2017 --(
PR.com
)-- For the first time, patients in Seattle can see a naturopathic doctor without an appointment, co-pay or deductible at the Apollo Health Clinic. As part of the growing direct primary care movement, Apollo Health Clinic uses a membership structure to provide more comprehensive care at a lower cost, without the headache of traditional insurance.
Dr. Madeira was inspired to open a direct primary care practice after growing frustrated with traditional insurance medicine. "I was with my patients for limited patient visits, and spent the majority of those visits documenting my notes so I could bill the patient's insurance company for that visit," Dr. Madeira said. "Direct primary care removes the insurance company from the equation (the middle man in healthcare) so I can focus on delivering 11 start patient centered care. It allows the sacred doctor-patient relationship to be the focus not insurance pre-authorization for treatments, excessive insurance dictated documentation, and insurance billing, which increases overall costs in healthcare and prevents people from getting the care they need."
Direct primary care is growing rapidly. The Heritage Foundation estimates that there were more than 5,500 direct primary care practices nationwide in 2014, up from just 756 in 2010. Like other DPC practices, Apollo Health Clinic will charge patients a monthly average fee of $199 that covers all visits, preventive screenings, and patients receive other services at a membership rate, such as, Stem Cell and Platelet Rich Plasma (PRP) Injections for joint pains (Osteoarthritis), Bio-Identical Hormone Replacement Therapy (BHRT) and Testosterone Replacement Therapy for adult men and women who suffer from Menopausal and Andropausal symptoms, such as fatigue, low libido, decreased strength and endurance, hot flashes, weight gain, and more. Labs and more advanced tests are offered to patients at a discounted wholesale rate.
Although patients are encouraged to keep a low-cost wraparound insurance plan to cover emergency services or surgery, their membership fee would replace a large portion of their monthly insurance premiums, as well as their co-pays and deductibles. This model enables substantial savings on the patient side since the costly insurance middleman is completely removed.
Upcoming Event August 16th 6:30 PM - 7:30 PM PDT - Free community wellness talk at Apollo Health Clinic. Dr. Madeira will share health and wellness tips to help increase your energy, balance your adrenal hormones (those glands that make your important hormones that control your metabolism, weight, and help you respond to stress!), prevent and reverse acute and chronic fatigue, and help reach your optimal weight, and more.
Gluten free healthy appetizers, wine, and non-alcoholic drink option will be served at this event.
About Apollo Health Clinic
Dr. Madeira founded Apollo Health Clinic in May of 2015. As the first naturopathic medicine direct primary care practice in downtown Seattle, it offers convenient patient care at an affordable price. For more information, please visit www.apollohealthclinic.com.
Dr. Samuel Madeira
Apollo Health Clinic
206-779-7747
info@apollohealthclinic.com
Contact
Apollo Health Clinic
Dr. Samuel Madeira
206-779-7747
http://apollohealthclinic.com/
Facebook - Apollo Health Clinic (https://www.facebook.com/apollohealthclinicseattle/)

Contact