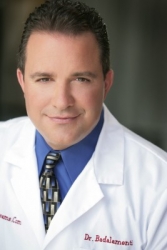 Milwaukee, WI, February 19, 2008 --(
PR.com
)-- Medical tourism — traveling to a location other than where you live for medical treatment — is not a new concept. In fact, thousands of years ago Greek pilgrims traveled to Epiduria, where the god Asclepius was believed to employ his healing powers. In more modern times, trips to spas to bathe in the mineral waters became popular and, nowadays it is quite common for people to travel to other countries for a range of medical treatments.
Now, a new take on medical tourism is unfolding here in the United States — in Milwaukee, Wisconsin, to be precise where medical tourists travel to see Peter J. Badalamenti, DDS at the Badalamenti Center for Advanced Dentistry.
The reason for this is simple: Even in a country like ours, where expert dental care is easily available, Dr. Badalamenti stands above the crowd.
He is highly trained, holds a doctorate and continues to study at the nation's most prestigious centers, including the Las Vegas Institute of Advanced Aesthetic Dentistry (LVI-Global), the major teaching institute for training in advanced aesthetic and neuromuscular dentistry; the Rosenthal Institute for Advanced Aesthetic Dentistry; the University of Kentucky College of Dentistry at Lexington; and with the Dental Organization for Conscious Sedation (DOCS). He also completed a Mini-Implant Residency in Oral Implantology in Chicago.
Together, Dr. Badalamenti's passion for what he does and his training to do it, have led his practice to a highly distinctive statistic: Almost one-half of his patients fly into Milwaukee from across the country to be treated.
Phillip Devore, DDS, is one of these. A cosmetic dentist and dental management consultant who has taught thousands of dentists himself, Dr. Devore is on the faculty of the University of Nevada Las Vegas School of Dental Medicine.
When he decided to have his bite readjusted and cosmetic work done on his mouth, Dr. Devore says, "There really was no question of who was going to do my case."
He flew to Milwaukee to be cared for by Dr. Badalamenti.
"He's very gifted, an amazing clinician who's evolved a very complex but efficient system for doing this. For me, he was the obvious choice," Dr. Devore says.
He goes on to note that the work on him "was efficiently completed in just a few visits. Dr. Badalamenti's staff is amazing. The office is gorgeous and he's kept up with all the latest equipment. I wanted to be awake so I could see what he was doing and maybe learn something. And I did. I found he's developed a special injection technique that's totally painless. It was great."
The results?
"Gorgeous," Dr. Devore said. "All my patients like it, and as a cosmetic dentist myself, I think it's important that I have a great smile. I have a very tricky bite but I'm not having any trouble with it now. You can't ask for more than that."
As a bonus for being treated by Dr. Badalamenti in Milwaukee, medical tourists can, he says, "look forward to spending a few days in a wonderful city; a city they might otherwise never see. Milwaukee really is a gem that people know so very little about. The first thing that comes to mind is beer, cheese, Laverne and Shirley and Happy Days.
"But," he adds, "we're not what people think. Milwaukee is known as the 'City of Festivals.' because we're so ethnically diverse and we celebrate that diversity. We have weekend festivals — Irish, German, Polish, Italian, African American — and there's always something going on. Milwaukee is a big little city with a symphony, a world-class zoo and fine restaurants. We have whatever you have in a large city; only here it's easy. Why, rush hour in Milwaukee only lasts 30 minutes or so. It's a great place."
Dr. Badalamenti's treatment for the medical tourist can take as little as two visits. He always begins by looking at general oral health. "If someone's jaw is in the wrong position I have to correct the alignment and be sure there's no underlying bone or gum disease. They come to me to build a beautiful, long-lasting Taj Mahal. It has to last. People spend a lot of money to get this second chance and I want to be sure they can achieve their goal."
"I want every patient who travels to Milwaukee to see me — and, of course, my patients who live here —to leave the city with a dazzling smile. And, on the way to the airport, I recommend that they stop for a Usinger's Bratwurst, a taste of Milwaukee into which they can really sink their teeth. After they taste it, they will smile a truly beautiful smile."
###