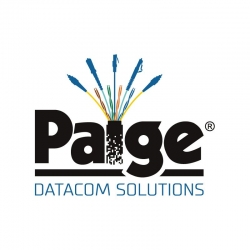 Union, NJ, August 22, 2017 --(
PR.com
)--
Paige DataCom Solutions
, the newest division of
Paige Electric
a manufacturer of low voltage and communications products, is announcing its endorsement and intent to allow CNETs Certified Network Cabling Installer program recipients to install Paige DataCom cabling solutions and offer Paige's full 25-year solution warranty. Paige DataCom is a direct sell manufacturer of copper and fiber cabling products for intelligent buildings, networks and data centers. Located in Union, NJ with worldwide offices, Paige Electric has been supporting a variety of wire and fiber needs across its entire portfolio of divisions from Precision Ag to its newest Paige DataCom Solutions Division.
According to David Coleman, VP of Business Development for the Paige suite of companies, "Our newest DataCom division is a natural progression of our low voltage division and adds to our diverse offering, allowing us to support entire campus environments from electrical to electronic - aluminum, copper and optics for intelligent buildings and data centers. Teaming with CNet allows us to attract some of the best trained talent in the industry. This is particularly important for our international customers where other programs are not available." Paige DataCom already accepts BICSI certified installers to offer full warranty.
Carrie Goetz, Global Director of Technology at Paige states that the CNET classes were particularly attractive as they off a full day of troubleshooting and spend a week individually on copper and fiber solutions. The class is particularly in depth. "Including CNET in our warranty program was an easy progression." CNCI is specifically for those wishing to demonstrate the highest levels of knowledge, skills and expertise in network infrastructure. The program provides successful learners with 2 x BTEC Level 3 qualifications plus official CNCI certification as well as the Fluke Versiv™ CCTT certification.
According to Andrew Stevens, CEO of CNET Training, "The Certified Network Cable Installer (CNCI®) program and certification is helping to shape the future of the network cabling infrastructure industry by introducing professional and industry recognized certification to cable installers."
The CNCI® program is comprehensive and blends a perfect mix of theoretical study and practical installation, testing and survey exercises providing the right level of knowledge and skills for both copper and fiber cable installation practices. Official CNCI® certification proves that an individual is qualified to undertake cable installation projects to the highest possible caliber while working to the current industry standards including BS EN, TIA and ISO, while following the latest codes of best practice.
Paige DataCom Solution's mission is to bring complete communications solutions with value added services direct to the end user, integrator and installer. For more information on our product lines or to become a channel partner you can visit www.paigedatacom.com or email cgoetz@paigeelectric.com. Follow us for product information on
Twitter
,
LinkedIn
, or to subscribe to their bi-weekly
blog
.