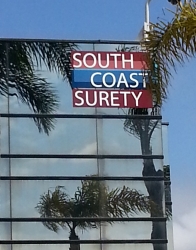 San Clemente, CA, August 24, 2017 --(
PR.com
)-- For nearly 24 years
South Coast Surety
has been finding ways to offer more surety bonding with less problems. The Managing General Surety Bond Only Agency has announced that they have again taken a large leap forward to make Surety Performance Bonds, Payment Bonds and Bid Bonds available to more contractors, for larger jobs with less difficulty in getting qualified.
South Coast Surety has announced that their Quick and Easy Contract Surety Program is giving same day approvals with their Simple
Contract Express
Application. Construction Contractors, Service Type Contractors and Supply Firms that want to go after profitable public contract can call, submit and discuss what they want and need with the Agency that has the Authority to approve their request.
South Coast Surety has stated that their Express Application can get contractors a $500,000 bid or job approved in the same day. The contractors can also use the same Contract Surety Bond Application for a single $1 million job. South Coast Surety just keeps moving onward and upward as they again upped surety limits, service and support for the widest range of contractors in the industry.
South Coast Surety is a National Managing General Underwriting Surety Only Agency headquartered in San Clemente, CA. The nationally licensed firm has a large and experienced staff in providing all facets of surety support for the wide variety of Commercial Surety Miscellaneous License and Permit bonds, as well as the mentioned personalized surety programs for all sizes of businesses that need performance bonds, payment bonds, bid bonds and supply bonds.
South Coast Surety is a proven direct source for all surety bonds and has earned from many of its highly rated and admitted surety company partners the trust to underwrite and approve most submitted business with the largest in-house underwriting authority in the nation. South Coast Surety has used these high limits to provide solid low cost bonding for the most surety qualified accounts throughout the country, while creating effective surety programs for contractors and businesses that have had challenges.