Nogginwear Designs & Creates Hats for Cartoonist, Illustrator and Childrens Book Author Don Mathias
Nogginwear legacy continues to grow with creating hats for local cartoonist…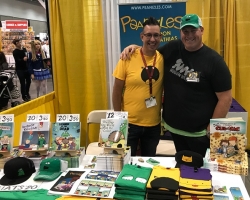 Boston, MA, August 24, 2017 --(
PR.com
)-- Nogginwear, the First & Only Premium Hat Subscription is rolling out several hats this summer, including 3 hats for cartoonist, illustrator and children's book author Don Mathias. Don is the creator and author of the wildly successful comic collection children's book series Peanizles pronounced Pea-Nih-Zles.
Don a mild-mannered art teacher by day and a book writer, cartoonist and illustrator by night created Peanizles in July 2009 and now has 3 paperback books published that are collections of his "the almost daily strip" and a new recently released and published children's storybook "The Day the World Lost Its Color." Mr. Mathias has also had his comic strips featured in world renown multiple award-winning comic book creator, writer and artist Stan Sakai book, The Sakai Project published by Dark Horse Comics and in a tribute book to Richard Thompson's comic Cul De Sac. Don grew up and still resides in Andover, MA he has had a passion for drawing comics his entire life starting his first newspaper comic in 1998 running in the Andover Townsman for more than ten years. "I met with Scott knowing Nogginwear hats are amazing owning several of their hats myself and wanting to create really cool hats but had no idea what I wanted to do," says Don. Mr. Mathias goes on to say, "Scott didn't tell me what he was going to do so when I received his design for my hats I couldn't believe he captured the essence of my characters in a hat- exactly what I wanted, I was ecstatic."
Nogginwear is totally different, not just designing and manufacturing a different premium retail quality hat for their hat subscription business, but using their experience to work with all different kinds of artist to capture the essence of the artist work and marry it up with a great hat design. "Working with Don on this project has been very rewarding, having him open to our ideas and letting us create a hat based on his work has been amazing," says Scott Weldon, CEO of Nogginwear. "We love to make hats and working with people like Don even furthers our passion for creativity."
A name that has become synonymous with its ever-growing legacy of limited edition hats Nogginwear is quickly getting known around the world for their hat designs and creativity, creating hats for the likes of Chef Brian Duffy from Bar Rescue, Chef Chad Rosenthal from Food Network, Stan Sakai creator of Usagi Yojimbo, Hillbilly Weatherman and many more.
About Nogginwear, LLC
Nogginwear is co-founded by 3 guys from New England; Scott Weldon, CEO, Bob Callahan, COO and Chris Lambert, CFO. Nogginwear came to life sitting around a table at Starbucks sketching out how to make hats fun, limited edition, one of a kind and delivered right to your mailbox. The Nogginwear team has well over 20 years of hat industry experience designing hats of all styles, fabrics and applications for companies all over the world. View Nogginwear Limited Edition Hats at http://www.nogginwear.com
Contact
Nogginwear
Scott Weldon
603-345-4567
www.nogginwear.com

Contact