4th Annual Vegan Soulfest Returns to Baltimore
Vegan Soulfest is a festival celebrating culture and vegan living. All Vegan. All Soul.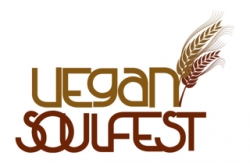 Baltimore, MD, August 28, 2017 --(
PR.com
)-- Vegan SoulFest 2017, presented by A Well-Fed World, was held on Saturday, Aug. 26th from noon-7 p.m. on the BCCC Liberty campus, 2901 Liberty Heights Ave. in Baltimore. Close to 125 vendors and an all-star lineup of presenters, chefs and musical performing artists catered to more than 7,000 attendees from as far as Washington State and Florida. The lineup of speakers included former NFL defensive lineman David Carter (a.k.a. the 300-pound vegan); Tracye McQuirter (author of By Any Greens Necessary), Dr. Milton Mills (What the Health); Monique Koch (a.k.a the Brown Vegan); Kevin Jenkins (Cool Vibes podcast); Dr. Terry Victor (the DC Dentist); and Antoinette St. Claire (TrueSelf TotalHealth). Entertainment was provided by DJ Tee Brown and Baltimore's own Ama Chandra, Mova Kween, and Buddah Bass. Special invited guest, DJ Cavem.
In 2014, Brenda Sanders, co-founder of Thrive Baltimore community resource center teamed up with Naijha Wright-Brown, co-owner of The Land of Kush, a vegetarian soul food restaurant in Baltimore City to organize the 1st Annual Vegan SoulFest. The purpose of the collaboration was to bring information about the benefits of eating healthier foods to Baltimore City, and do it on a larger scale. "I've attended a couple of vegan festivals in surrounding areas," Wright-Brown said. "We felt the need to bring a vegan soul festival of this kind to Baltimore's inner city - making it accessible to people by car, train and bus."
The inaugural Vegan SoulFest turned out to be more successful than the founders imagined. The expectation was to attract a few hundred people to a free festival about food. Instead, more than 1,200 people attended, resulting in coverage by Dan Rodricks of The Baltimore Sun who described it as a "new food festival in Baltimore." People came from all over Baltimore City and the surrounding counties – even as far away as Philadelphia, New York City and Northern Virginia – to learn more about the nutritional benefits of including more plant foods in their diets. They heard lectures from experts in plant nutrition and watched cooking demos on how to prepare plant-based foods from local vegan chefs. Best of all, they got to sample a variety of delicious vegan foods from dozens of vendors.
In 2015, Vegan SoulFest became more successful by entering into a preliminary partnership with Baltimore City Community College (BCCC). Nearly 100 vendors were present and 3,000 people attended – more than double the number from the first year. "We've been pleasantly surprised by the overwhelmingly positive response we've gotten," Brenda commented. "I'm so honored to be a part of bringing this festival to the people of Baltimore!" With the help of major sponsors like Harbor Bank and A Well-Fed World, Vegan SoulFest was able to expand into the much larger venue of a college campus, bring in more nutrition experts, feature back-to-back cooking demonstrations, and incorporate fitness and live musical performances into the program.
"Vegan SoulFest has a perfect home at Baltimore City Community College," said BCCC President/CEO Dr. Gordon F. May. "As a community gathering place where the vital benefits of healthy eating are made available to all during this festival, we want to empower everyone to take responsibility for their personal health."
As expected, the 2016 Vegan SoulFest attendance nearly doubled again, bringing out close to 6,500 people. Attendees enjoyed a variety of lectures on plant-based nutrition and wellness, interactive cooking demonstrations, entertainment from local musical artists and more.
The annual "vegansoulicious" festival continues to grow year over year and may in need of a new home in 2018.
For more information about the annual festival, please visit the Vegan Soulfest website at
www.vegansoulfest.com
. Vegan Soulfest is a registered trademark.
Contact
Vegan Soulfest, LLC
Naijha Wright-Brown
443 844 5046
www.vegansoulfest.com

Contact