Prevent Life Safety Inspects 500,000th Fire Damper
Prevent Life Safety has officially inspected 500,000 fire dampers in heathcare and commercial facilities.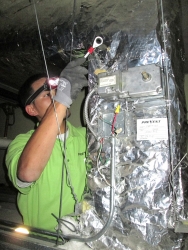 Livermore, CA, August 30, 2017 --(
PR.com
)-- Prevent Life Safety has reached a huge milestone in their fire barrier maintenance service of officially inspecting 500,000 fire dampers. Over the last decade keeping facilities code-compliant with their fire barrier system has been their sole focus.
"We take pride in the services we provide," said Prevent Life Safety Owner Dennis Cohan. "Each fire damper we inspect has the potential to save someone's life, and we take that very seriously."
NFPA Code requires that all fire dampers, smoke dampers and combination fire/smoke dampers, be inspected within one year of installation. After the first inspection, dampers are only required to be inspected every 4 years, while hospitals are required to have fire and smoke damper inspections completed every 6 years.
Reaching the 500,000 dampers inspected milestone is a very big accomplishment. They have encountered almost every situation possible when it comes to accessing the dampers and nothing has stood in their way to keep the facility compliant.
"I'm excited for the whole team," Cohan said. "We have the most experienced technicians in the business and I'm honored that they choose to work at Prevent."
Prevent Life Safety services hospitals, schools and commercial buildings across the U.S., keeping fire barriers up-to-code for each Joint Commission survey. They specialize in fire/smoke damper inspection and repair; fire door inspection, repair and recertification; and firestopping. For more information, call 1-877-392-6074 or visit
www.Prevent-LSS.com
.
Contact
Prevent Life Safety
Rebecca Bertoldi
925-667-2088
https://prevent-lss.com

Contact